Why This Pizza Crust Is My New BFF
For the older generation out there that doesn't text, BFF stands for best friend forever (someone had to inform ME of that :-).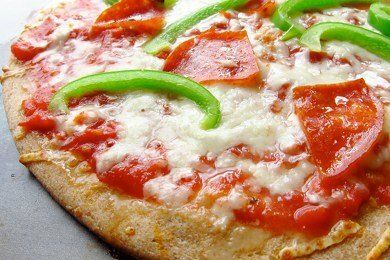 The truth is Snack Girl has been trying to perfect her whole wheat pizza crust recipe for the website and her family. My family has endured my flailing attempts - including crusts that tastes like cardboard, could be used as floor tiles, and are just plain disgusting.
As I was cruising down the pasta aisle in my local supermarket, I noticed this crust from Boboli: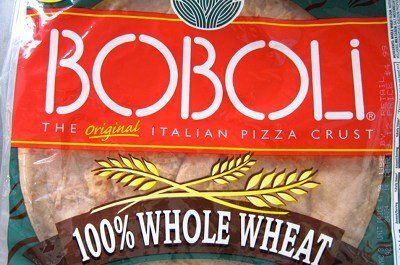 What? A thin 100% whole wheat crust and all I have to do is put on toppings?
Hello!
In that aisle of the grocery store, I also grabbed a 28 ounce can of crushed tomatoes in thick purée. This can cost me $1.50, has no sugar added, and taste better than many jarred commercial pizza sauces.
I bought a package of full fat mozzarella, got out my grater, and started pizza making. The difference between full fat and part skim mozzarella is fairly small in terms of calories - and I happen to hate the taste of low-fat cheese.
The pizza in the photograph above features 5 g of fiber, 22% of your daily value of vitamin C, and 8% of your daily value of iron in just one slice. Don't try to buy this type of nutritional impact from Domino's.
The there are 2 downsides to the Boboli crust. First, it costs $4 (which is steep when you consider 2 large pies at Papa John's is $9.99). Secondly, they included cheese in the crust. The cheese tastes good but it probably isn't necessary.
Have you tried Boboli crust? What do you think of it?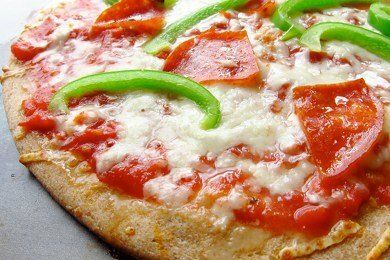 Whole Wheat Pizza Recipe

(makes 6 slices)
1 Boboli 100% Whole Wheat Crust
1 cup canned crushed tomatoes in thick puree
1/4 cup whole milk mozzarella cheese, grated
1/2 green bell pepper sliced
1/2 ounce pepperoni (optional)

Heat oven to 450 F. Put Boboli crust onto cookie sheet and spread tomatoes, cheese, pepper, etc. on pizza. Bake for 8-10 minutes. Enjoy!
For one slice without pepperoni = 169 calories, 4.6 g fat, 26.0 g carbohydrates, 7.2 g protein, 5.0 g fiber, 373 mg sodium, 4 Points+
Points values are calculated by Snack Girl and are provided for information only. See all Snack Girl Recipes
Other posts you might like:
---

Back to the black and white photo for a discussion about pizza. Why did I choose black and white?....
---

You would have to be living under rock to miss the Domino's marketing campaign. Seems that they changed their recipe, and their food doesn't taste like cardboard....
---
---
Get Free Email Updates! Yes please!
---