Delicious Broccoli Apple Salad Will Keep In Your Fridge
Lettuce tends to melt in my fridge and when I make a salad with it - I eat it right away.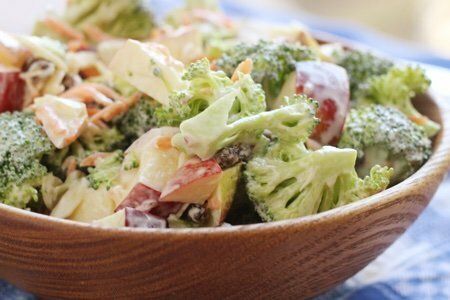 It can be difficult to keep a raw vegetable type of mixture ready to go for grabbing instead of – hmm, let's say the cheesecake that my friend, Kate, brought over.
But, you can use heartier fruits and vegetables and make LARGE salads that you can munch on with a little bit of planning. This salad uses broccoli, carrots, and apples and it is so yummy that my husband ate it instead of the cheesecake.
I'm not kidding.
For the dressing, I am going to give a little shout-out to Chobani. I used the Chobani non-fat plain 5.3 ounce yogurt for this recipe and it was the perfect flavor and consistency. It is a great choice for a low-fat, low-sugar, high protein yogurt. I mixed it with some mayonnaise and it was very creamy.
This product was received for review consideration. No other compensation was provided.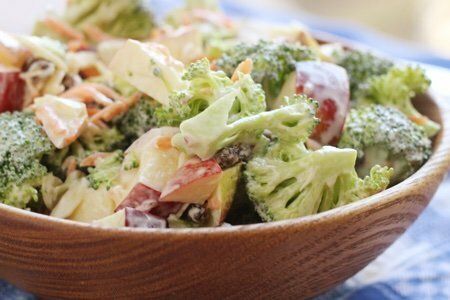 Broccoli Apple Salad Recipe
Makes 6 servings

Ingredients
2 pounds broccoli florets
1 large carrot, peeled and shredded
½ red onion, diced
1 large apple, finely chopped
¼ cup raisins

Instructions
Dressing:
¾ cup non-fat Greek yogurt (5.3 ounces works)
¼ cup mayonnaise
2 tablespoons fresh lemon juice
salt and pepper to taste

In a large bowl mix together broccoli, carrot, onion, apple, and raisins. In a small bowl, whisk together yogurt, mayonnaise, and lemon juice.
Pour dressing onto salad and adjust seasonings. Enjoy now or keep in the fridge for up to one week.
Nutrition Facts
153 calories, 3.9 g fat, 0.5 g saturated fat, 27.1 g carbohydrates, 14.0 g sugar, 6.3 g protein, 6.0 g fiber, 153 mg sodium, 4 Points+
Points values are calculated by Snack Girl and are provided for information only. See all Snack Girl Recipes
---
Get Free Email Updates! Yes please!
---