A Light and Spicy Appetizer for New Years
The American Buffalo chicken wing is a scary thing and this buffalo chicken meatball recipe will make you far less frightened.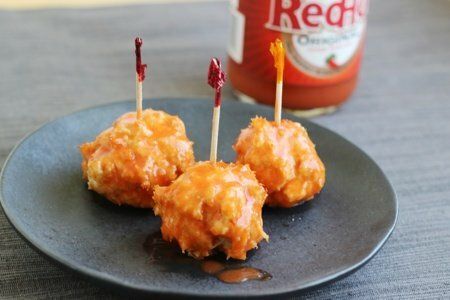 First, who ever heard of a buffalo chicken? I had no idea what it was for the longest time.
Second, the person who came up with buffalo chicken wings was a genius. You deep fry the wings and then add spicy sauce to get a fatty, spicy, crunchy, incredibly delicious when paired with beer, messy, treat.
When I was younger, I used to order them by the dozen after playing hours of Ultimate Frisbee – inhaling them without a consequence. The place we went served them with piles of jalapeno peppers and I never managed to get a stomach ache.
I can't try that move now!
I had no idea how fatty these wings were were until I started paying attention (and I am sorry I did). I created a healthier buffalo chicken wing recipe to help with my chicken wing problem. That recipe oven roasts the wings and then you add the sauce thereby skipping the deep frying (which is the part that really gets you into trouble).
This buffalo chicken wing makeover is for the enthusiast who knows that she needs to lay off the regular stuff. You get chicken and the spicy sauce but you greatly reduce the fat (no deep frying and 99% breast meat).
These are good! I liked them a lot but I found that they were best served hot (both the temperature and the spice). You can keep them hot in a small slow cooker if you are having a Super Bowl party.
Chicken breast meat is flavorless so the addition of painfully spicy sauce is a great idea.
If you want to go for the healthiest choice of all try my buffalo cauliflower recipe. It is DIVINE.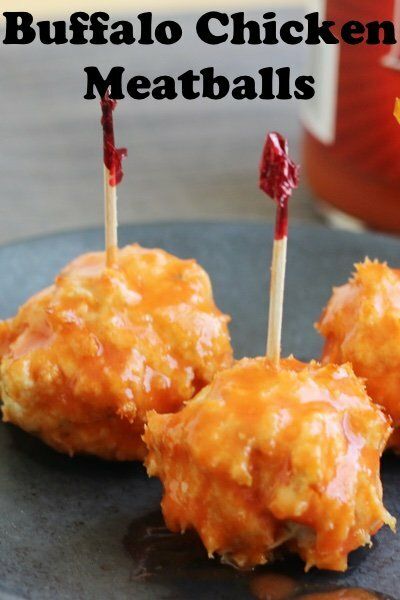 Do you have a Buffalo chicken wing problem? Have you solved it?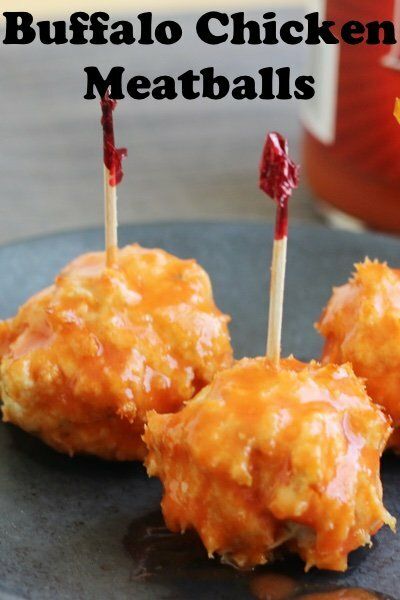 Buffalo Chicken Meatball Recipe

Makes 20 meatballs

Ingredients
¼ cup chopped onion
3 cloves garlic, minced
¼ cup bread crumbs
1 teaspoon dried oregano
½ teaspoon salt
1 pound 99% fat free chicken breast, ground
1 cup buffalo wing sauce (such as Frank's Red Hot)

Instructions
Preheat oven to 400 F. Line a rimmed baking sheet with aluminum foil for easy clean-up. In a large bowl, mix onion, garlic, bread crumbs, and salt. Add chicken breast and mix until blended.
Divide meat into four equal sections. For each section, roll 5 balls and put on baking sheet until you have 20 meatballs. Bake for 15 minutes until cooked through.
At this point, you can store the meatballs or move on to the next step.
Add buffalo wing sauce to a small saucepan or small slow cooker. Heat sauce until warm and add meatballs. Stir to coat meatballs. Serve hot with toothpicks.
Nutrition Facts
For one meatball = 44 calories, 0.9 g fat, 0.0 g saturated fat, 1.4 g carbohydrates, 0 g sugar, 7.5 g protein, 0 g fiber, 113 mg sodium, 1 SmartPts
Points values are calculated by Snack Girl and are provided for information only. See all Snack Girl Recipes
Other posts you might like:
---

Vegans, avert your eyes. We are going to the land of chicken and you know you are eating an animal when you chomp into a wing....
---

Last month, I featured a recipe swap with carrots as the featured vegetable. Thanks so much for sharing your recipes.
---
---
Get Free Email Updates! Yes please!
---