The Calories In Calories Out Cookbook: 200 Everyday Delicious Recipes under 400 Calories
I am always looking at cookbooks to get healthy ideas for this site and for my family. This one is a keeper.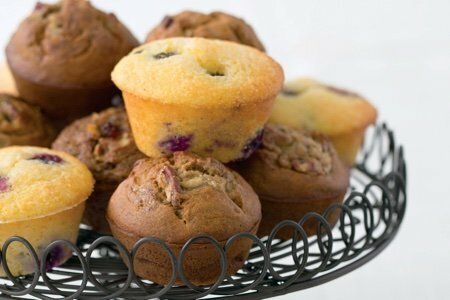 The Calories In Calories Out Cookbook: 200 Everyday Recipes That take the Guesswork Out of Counting Calories – Plus, the Exercise It Take to Burn Them off is a resource for people who want to:
Cook healthily and know the calories in our food.
Know how much physical activity it takes to burn off the food.
Try new flavorful recipes that make great meals.
There are photos, advice, and technique tips and a calorie guide for common foods in the back. And, even better, all the recipes are organized by calorie amount so you know what you are getting into.
I love the recipes and the layout of the book. Check it out!
Catherine Jones (the author) shared her wonderful lemon/blueberry corn muffin recipe with us. Thanks, Catherine!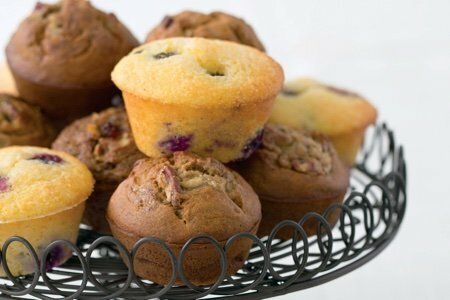 Lemony Blueberry Corn Muffins
After they'd consumed many batches of these muffins, my family and friends unanimously decided that they are best made without muffin liners. Baking them directly in a greased muffin pan creates a crispy exterior, a wonderful foil to the fluffy, soft interior laced with juicy blueberries.
Because blueberries have a tendency to sink, I roll them in a bit of flour before adding them to the batter, which helps keep them suspended. The muffins can be kept in an airtight container at room temperature for up to 3 days; they can be refrigerated for 5 days or frozen for up to 1 month. Muffins are best thawed at room temperature or in a conventional oven, not a microwave.
120 Calories In | 1 muffin
Protein: 2 g; Carbohydrates: 16 g; Fat: 5 g; Fiber: 1 g; Sodium: 136 mg; Carb Choices: 1; Diabetic Exchange: 1 Starch, 1 Fat
120 Calories Out
Women: Walk:
29 minutes | Jog: 14 minutes Men: Walk:
24 minutes | Jog: 12 minutes
Makes 12 muffins
Canola oil cooking spray
1 cup (150 g) fresh blueberries
½ cup (65 g) plus 1 tablespoon unbleached all-purpose flour
½ cup (80 g) yellow cornmeal
1 teaspoon ground cinnamon
1/3 cup (70 g) sugar, plus a little extra for sprinkling
½ tablespoon baking powder
¼ teaspoon baking soda
¼ teaspoon salt
1/3 cup (80 ml) nonfat plain yogurt
¼ cup (60 ml) 2% milk
1 tablespoon grated lemon zest
2 tablespoons fresh lemon juice
¼ cup (60 ml) canola oil
1 large egg
Center an oven rack and preheat the oven to 375°F (190°C). Spray a 12-cup muffin pan with cooking spray; set aside. Roll the blueberries in 1 tablespoon of the flour and set aside.
In a large bowl, combine the remaining ½ cup (65 g) flour, the cornmeal, cinnamon, sugar, baking powder, baking soda, and salt and whisk until well combined. Set aside.
In a small bowl, combine the yogurt, milk, lemon zest, lemon juice, canola oil, and egg and whisk until blended. Add the wet ingredients to the dry ones, stirring until the flour is well incorporated. Fold in the reserved blueberries.
Divide the batter evenly among the muffin cups, filling each cup about three-quarters full. Sprinkle the top of each muffin with a little sugar. Bake for 20 minutes, or until a cake tester inserted in the center of a muffin comes out clean. Transfer the muffins to a rack and cool slightly before serving.
How to Make Picture-Perfect Muffins Every Time: When making fruit muffins, reserve some of the fruit before starting the recipe. For the Lemony Blueberry-Corn Muffins, reserve 1 to 2 blueberries per muffin. Do not roll these blueberries in flour. After you scoop the batter into the muffin cups, arrange the reserved fruit on top of the batter and then tuck it in, leaving it about halfway exposed, for a lovely presentation. You can also do this with nuts, banana chunks, berries, or dried fruits.
Recipe from The Calories In, Calories Out Cookbook: 200 Everyday Recipes That Take the Guesswork Out of Counting Calories—Plus, the Exercise It Takes to Burn Them Off, copyright © Catherine Jones and Elaine Trujillo, 2014. Reprinted by permission of the publisher, The Experiment. Available wherever books are sold. Photo credit: Law Soo Phye
Points values are calculated by Snack Girl and are provided for information only. See all Snack Girl Recipes
---
$24.95 $21.81 Buy on Amazon.com
As an Amazon Associate, I earn from qualifying purchases.
---
---
Get Free Email Updates! Yes please!
---