Hide An Entire Carrot In This Wrap
Do you want to sneak some veggies in without anyone noticing? Use the sushi method of vegetable hiding.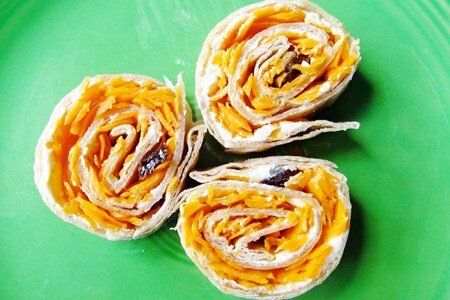 These carrot bites are so colorful and they look so cute. Who wouldn't want to eat that? Even my son, the "I only like macaroni and cheese" guy, will eat these because they appeal to him.
I made these carrot, cream cheese, and raisin bites to eat as a snack. Before I started writing this website, I would have just had the tortilla and the cream cheese (boring...). Adding the carrot not only makes it tastes better, it makes it much more healthy by adding fiber, vitamins, etc.
Carrots are low in calories, high in nutrients, and very inexpensive. I purchased 2 pounds of carrots for $1.79 last week.
The sweetness of the carrots and raisins are a nice treat. This kinda looks like sushi made by an amateur drunk sushi chef : )
This would be a great after school snack for kids or an after workout snack. Be aware that the entire tortilla cut up is going to set you back 200 calories so you might want to share this with a friend (or save half for later) if you are trying to keep your snacks to 100 calories.
I would just make these and eat them because the wrap would get soggy in the fridge.
How do you use carrots in your meals or snacks?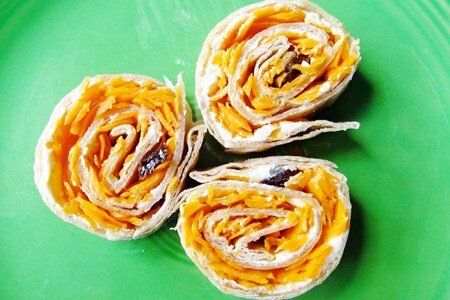 Carrot, Cream Cheese, and Raisin Bites Recipe
(serves 2)
1 whole wheat tortilla
1 tablespoon cream cheese
1 carrot, grated
10 raisins

Spread cream cheese on tortilla. Add grated carrots and raisins and roll up. Slice into 10 pieces and enjoy!
One serving = 100 calories, 2.3 g fat, 18.1 g carbohydrates, 2.7 g protein, 4.9 g fiber, 91 mg sodium, 2 Points+
Points values are calculated by Snack Girl and are provided for information only. See all Snack Girl Recipes
Other posts you might like:
---

Do you hate limp carrots? Do you buy a bag of carrots only to find that half of them are rotten by the time you get to eat them?...
---

Last week, I posted about grilling Romaine lettuce and a bunch of you asked for recipes for making your own salad dressing.
---
---
Get Free Email Updates! Yes please!
---