Cauliflower Potato Curry Recipe
This cauliflower potato curry recipe should be a standard dish in your house.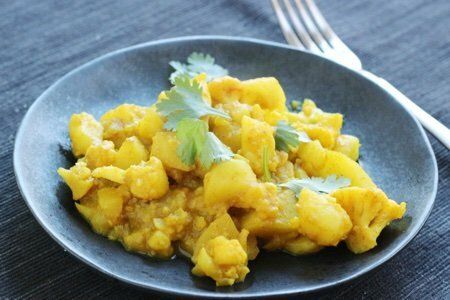 I have been called the "Queen of Cauliflower" and there have been complaints about my constant desire to work this vegetable.
Hey, I am not going to apologize for loving cauliflower. (I am a little sorry about the people who get gassy when they eat it.)
Check out my list of exciting cauliflower recipes and the most beautiful whole roast cauliflower.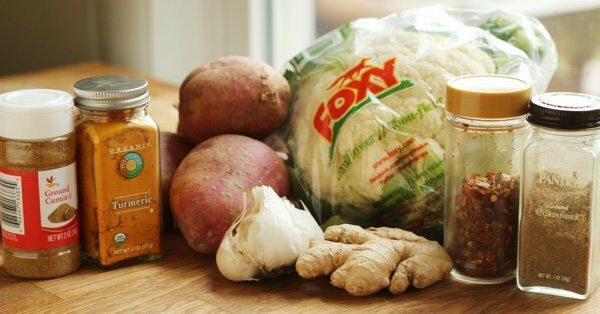 Today, we are going to spice it up! This recipe is Indian comfort food and is known as aloo gobi. I could eat it for breakfast, lunch, and dinner and I can't really tell you why. It is hearty and easy to make.
Cauliflower and potatoes are so bland and Indian spices such as cumin and ginger turn them into something special.
This recipe is gluten-free, dairy-free, and vegan so if you have guests that fit any of these categories you are set. I love having something like this in my back pocket to ensure that everyone is happy.
Before you get all grumpy about having to buy the spices, you should have a few of these already in your pantry. If you have to buy one of two, remember that you will be making this often so the expense will be worth it.
I have found all of these spices at my regular grocery store. The demand for different flavors just seems to be growing for home cooks (which is a good thing). So much of American food is bland (hamburgers, mac and cheese, fried chicken) and I find that when I eat very flavorful food – I tend to eat less of it.
You can add peas to this to add a little green color and some sweetness to the dish. In addition, you could make this with sweet potatoes! Don't hesitate to experiment.
Have you used Indian spices with vegetables?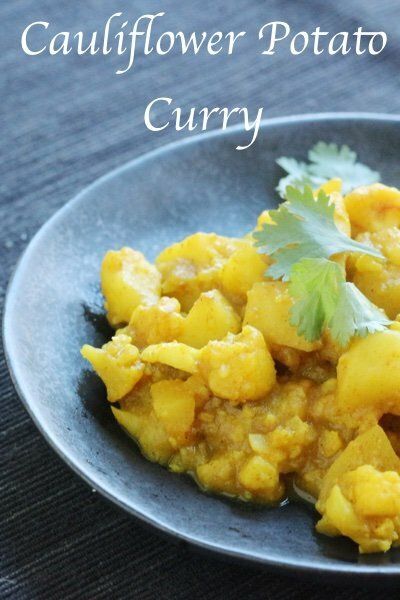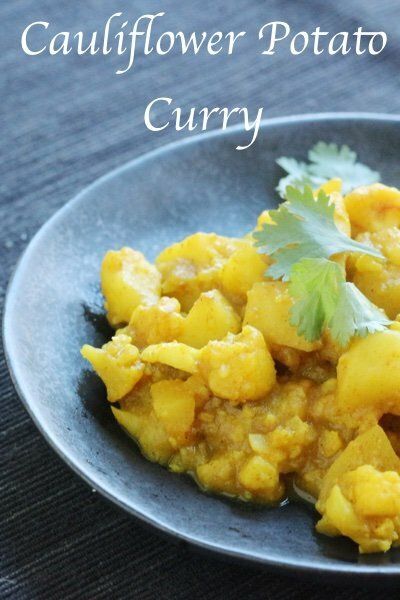 Indian Spiced Cauliflower & Potatoes Recipe
Makes 6, 1 cup servings
Ingredients
1-1.5 pound potatoes, peeled and cut into ½ inch cubes
1 head cauliflower, trimmed of leaves and chopped into florets
1-inch piece fresh ginger
½ teaspoon red pepper flakes
2 cloves garlic, peeled and minced
1 tablespoon ground coriander
2 teaspoons ground cumin
2 teaspoons ground turmeric
½ teaspoon salt
2 tablespoons vegetable oil
1 ¼ cup water
½ cup fresh cilantro, chopped (optional)
Instructions
Peel the ginger and grate it using a fine grater into a small bowl. Mix in the pepper flakes, garlic, cumin, turmeric, coriander, salt, and oil.
Heat a sauce pan over low heat and add spice paste. Cook for 5 minutes until the spices are toasted and smell really good. Add the potato and cauliflower, bring up the heat to medium, and stir for 3 minutes. Add water, mix, and simmer covered for 20-25 minutes until cauliflower and potato are soft.
Add cilantro and serve.
Nutrition Facts
One cup is 137 calories, 5.0 g fat, 1.0 g saturated fat, 21.4 g carbohydrates, 2.4 g sugar, 3.1 g protein, 4.1 g fiber, 218 mg sodium, 4 SmartPts
Points values are calculated by Snack Girl and are provided for information only. See all Snack Girl Recipes
Other posts you might like:
---

Don't you find cauliflower exciting? No?...
---

I added this recipe to my arsenal last year and it is a hit!....
---
---
Get Free Email Updates! Yes please!
---