Guess The Most Evil Food At Chain Restaurants
See those wings up there? They are packing some heat! (and I'm not talking about flavor)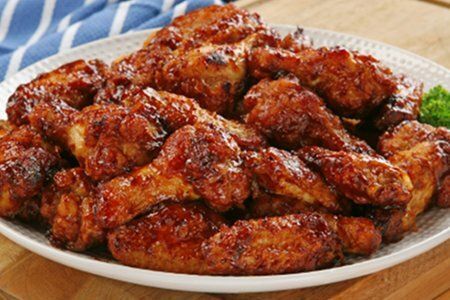 psssst.....there is a gun under the plate. Yes, people, this plate of chicken wings is out to kill you.
How do I know that? A recent study in Public Health Nutrition has implicated appetizers in a nationwide conspiracy of added poundage (see here: What's on the menu? A review of the energy and nutritional content of US chain restaurant menus).
The researchers got a list of the top 400 chain restaurants including fast food venues and asked them to send over their nutritional facts on their menu items. You would think this would be an easy request but only 245 of the restaurants sent in their information.
Ahem. That means 155 restaurants such as California Pizza Kitchen or The Cheesecake Factory decided NOT to cooperate and share the calorie information in their food. I find it astonishing after NYC and other places have forced chain restaurants to share this info. that restaurants are still not helping consumers out.
I want to know what is in my food because it helps me make informed decisions. A great example is the Bloomin' Onion from Outback Steakhouse. After I read "Eat This Not That", I found out that the onion is 1948 calories. I shared ONE of these with a friend. ooops.
The next time I went to Outback, I ordered the "Grilled Shrimp On The Barbie" which is tasty and is 294 calories total - and I shared it with a friend. Whoa! I just saved 900 calories because I had information. (No Barbie's were injured as a result of the shrimp dish.)
Okay, so with the information they did collect - the results clearly showed that APPETIZERS are the worst items on the menu. They have more fat, calories, and sodium than the other menu items.
You probably already knew that. Deep fried cheese, Buffalo Wings, Jalapeno poppers - these are not examples of healthy food choices. They DO taste good with beer which is why they are so salty. More beer, anyone?
The other big conclusion was the children's "specialty" drinks were higher in calories than regular menu items. I had noticed that my local Friendly's has started to serve a shake to my kids with lunch. They are already getting ice cream at the end of the meal, so I was wondering about this strange menu choice.
My daughter got a bad stomach ache after having both a shake and a small sundae (with a hamburger in between).
Next time you go to a chain restaurant, choose your appetizers carefully and avoid the children's specialty drinks.
How do you deal with the lack of information from chain restaurants?
---
$19.99 $10.38 Buy on Amazon.com
As an Amazon Associate I earn from qualifying purchases.
---
Other posts you might like:
---

Snack Girl recently visited a chain restaurant (not the one photographed above) and conducted her own thrilling investigation of healthy options....
---

Snack Girl, the person, wants to "walk the talk" of her website. She confronts many situations where it isn't easy to follow her own advice...
---