The Story of The Mom Who Fed Her Son Cheetos
Today's post was going to be about low carb snacks then life got in the way. My son came down with over 103 degree fever.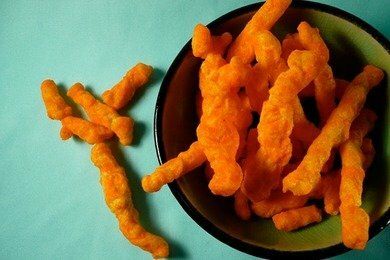 Unfortunately, this fever was also accompanied by a lump on his head that was developing a purple circle around it. Yikes! Last night, I drove him to the emergency room and began the LONG wait to see a doctor.
You see that RING could be Lyme's disease, which if it is caught early will lead to absolutely nothing. But, if it isn't treated it can lead to nerve damage. SUPER YIKES!
My son is five years old and the sweetest kid in the universe. He was crying on the drive over because he didn't want them to give him a shot. Also, he had slept most of the day, his eyes were bloodshot, and he hadn't eaten a thing.
After being triaged into the packed waiting room (oh no!), Alex noticed the large vending machines dominating the hospital hallway.
Why they put Coke, Dr. Pepper, and Doritos in a hospital (a place that should be promoting healthy choices) is beyond me - but there they were.
His eyes lit up for the first time in the day and he said, "Look, mommy! Cheetos!!!". I pulled out my dollar, pressed B5, and chose the Cheetos for him.
That's right, your fearless leader in the world of healthy eating bought a bag of Cheetos and fed it to her SON :)
Then, I got to sit in the waiting room while he munched on them, spilled them twice, and got covered in the bright orange dust that flows from Cheetos.
I had a couple of thoughts, "Do these people think I am a bad parent for feeding him this stuff?" and "What is the doctor going to say about the streaks of bright orange all over his body?".
Then, I remembered that I have put an enormous amount of thought and love into what I feed my son.
It isn't that junk food is the enemy, it is that junk food is so prevalent in our society, workplaces, and culture that we have to work to not eat it ALL THE TIME. Snack Girl is about alternatives to what is all around us.
Unless you live in a cave, you are offered Cheetos, Coke, candy, donuts, chips, and other processed food on a daily basis - multiple times a day. It isn't easy to say NO! to stuff that tastes good and is so affordable.
A fun exercise is to write down the times you turned down a chance to indulge in junk food. For example, I went to a salon and managed to avoid the bowl of Easter candy - the same day I was offered a free sample cookie at the grocery store - and managed not to buy the 2 for $1 Reeses peanut butter cups at the local convenience store where I was buying milk that I forgot to buy at the grocery store.
There is a CONSTANT stream of junk food in front of our faces and if you can avoid it MOST of the time, you are doing really well.
Give yourself some credit today for what you managed to avoid (and don't beat yourself up when you eat the occasional free donut).
How do you deal with our Junk Food Universe? What did you manage to avoid today?
Alex was diagnosed with Lyme's disease and is taking antibiotics and looking MUCH better.
---
Other posts you might like:
---

Forgive the photo of Marilyn Monroe, but I couldn't resist. She is on my mind because of the new show on NBC "Smash" which is about creating a broadway musical about Marilyn Monroe....
---

My dear husband left for 10 days yesterday on a well deserved trip. (That isn't actually of photo of him :)...
---