Chickpea Salad Recipe
This chickpea salad recipe is for winter when it is hard to find fresh vegetables.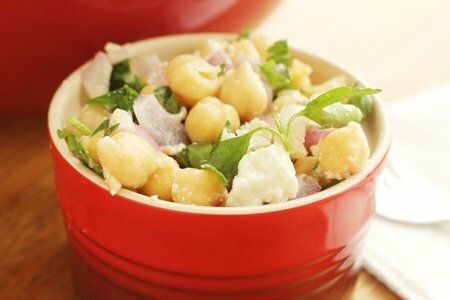 In my spot in the world, the Farmer's market is lacking in green. You can get turnips, potatoes, and rutabagas – but who can eat THAT all winter (or all summer for that matter).
This chickpea salad simple to make and keeps for at least a week in the fridge. Try that with lettuce and you will have salad soup.
Cans of beans are inexpensive and will keep for a very long time in your pantry so stock up. If you haven't made my copycat Chipotle black beans, I think now is the time.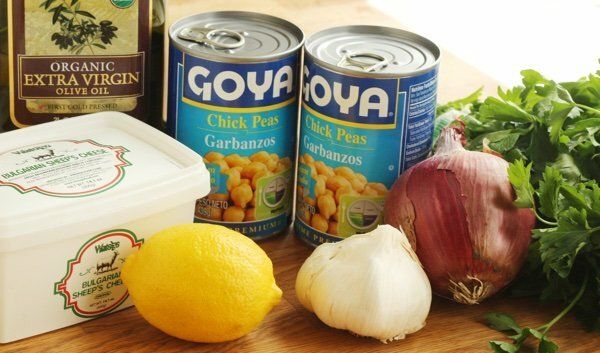 The one big step in this recipe (other than opening cans) is to saute onions and garlic to mellow out their flavor. Raw onions are a bit spicy if you ask me.
You can eat this salad warm like my bacon lentil salad which is fitting since it is so cold outside. If you eat it right after you make it, it will still be warm from the stove.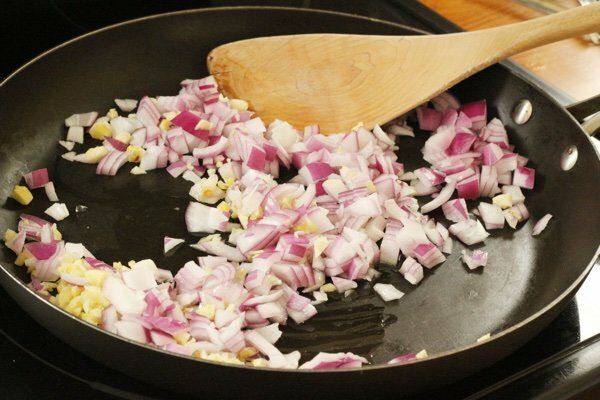 I like all the colors that are represented in this salad, green, pink, tan, and some white. I do get sick of the same boring lettuce salad so it is nice to mix it up a bit.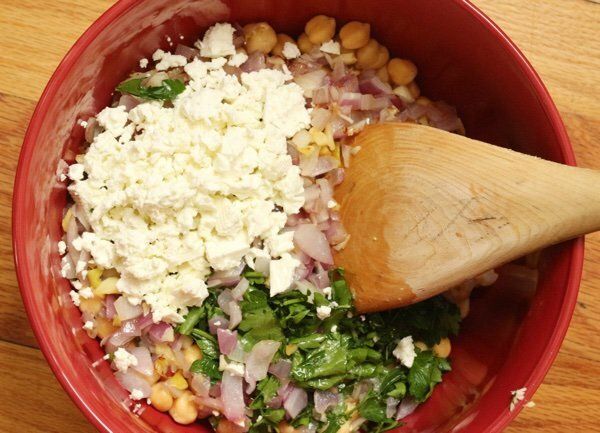 My daughter loves this chickpea salad and even took it to school with her (hurray). My son turned up his nose at it as he declared that he hated chickpeas. I don't know that he has ever tried a chickpea so I am not sure where that is coming from.
He likes hummus so what is the big deal? It is impossible to get all four members of my family to agree on anything that I cook.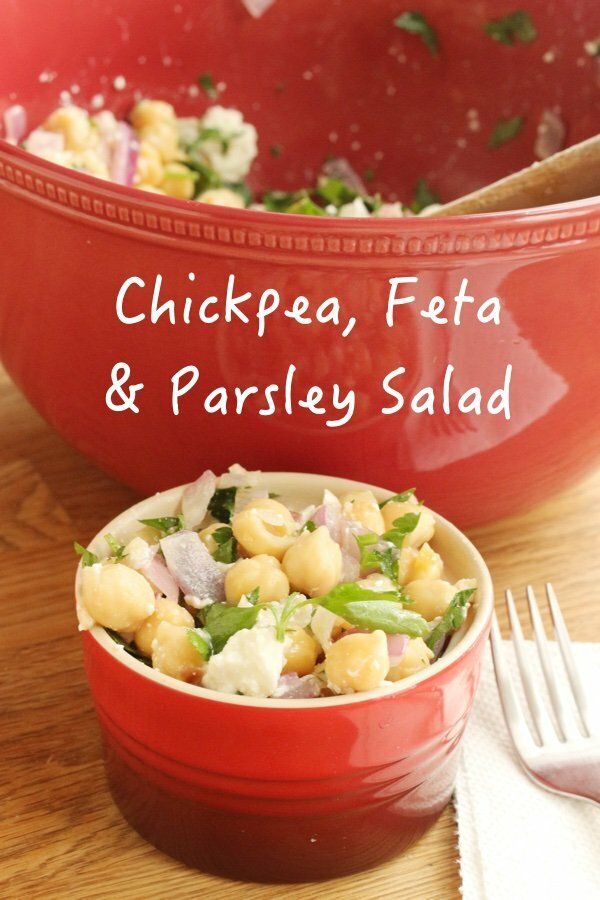 This is fast, delicious and filling. I will eat this for lunch with a piece of fruit. Stuff this in a pita for a sandwich or add some canned tuna to mix it up a bit.
This salad also is nice on a bed of fresh lettuce (ha!).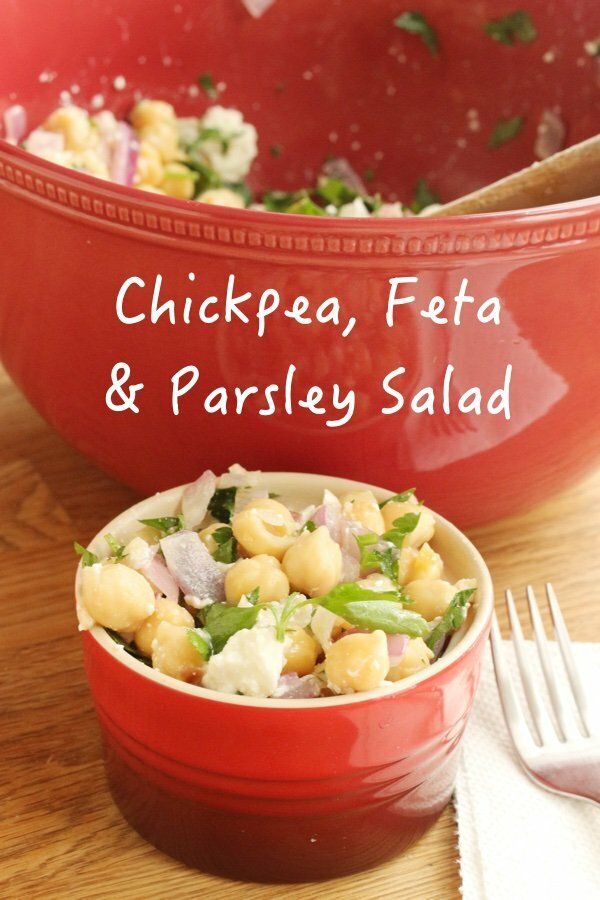 Chickpea Salad Recipe
Makes 6 cups
Ingredients
1 small red onion, chopped
3 cloves garlic, minced
1 tablespoon olive oil
pinch of red pepper flakes
2-15.5 ounce cans cooked chickpeas or garbanzo beans, rinsed
1 cup parsley, chopped
½ cup crumbled feta cheese
1 lemon, juiced
Instructions
Heat 2 teaspoons olive oil in a sauté pan and cook onion until translucent. Add garlic and stir for 30 seconds. Remove from heat. Add chickpeas, parsley, feta, and lemon juice and 1 teaspoon olive oil to a large bowl. Mix in onions and adjust seasonings. Serve immediately or store for later. This does well in the refrigerator for a few days as it marinates.
Nutrition Facts
One cup is 150 calories, 4.9 g fat, 1.2 g saturated fat, 17.6 g carbohydrates, 2.3 g sugar, 9.8 g protein, 3.7 g fiber, 363 mg sodium, 2 Freestyle SmartPts
Points values are calculated by Snack Girl and are provided for information only. See all Snack Girl Recipes
Other posts you might like:
---

Do you think the words "warm" and "salad" work together? Well, they can if you use lentils....
---

Like all the healthy foodies, I make my food from scratch unless I don't....
---
---
Get Free Email Updates! Yes please!
---