Chobani Greek Yogurt, YQ, and Coconut Yogurt Review
Chobani Greek Yogurt and YQ by Yoplait have something big in common. The companies know that regular yogurt is packed with too much sugar.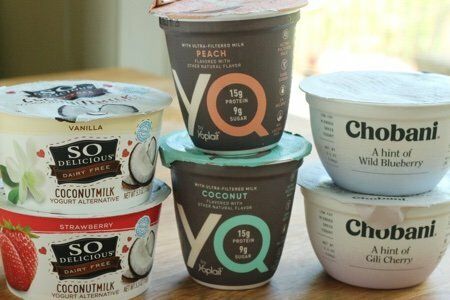 I TOLD them. This isn't me being funny. Chobani stopped talking to me after I told their product development people to cut the sugar. That is what they get for inviting me to their plant in New York State.
TOO MUCH SUGAR in yogurt is one of my rallying cries.
General Mills, creator of Yoplait and YQ, has never asked my opinion but they know the score.
I was wandering in the yogurt section of my supermarket when I saw a couple of yogurts that I hadn't tried and so I thought it was time to dive in again into the yogurt wars.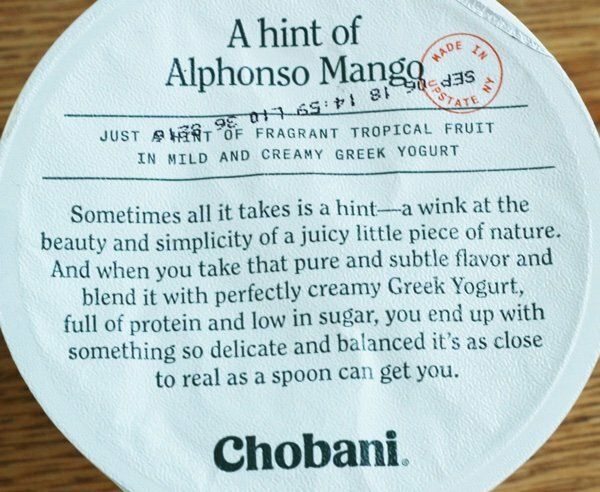 This is a Chobani that features a HINT of flavor versus a full on slam dunk of flavor. I think the idea is to prepare you for the yogurt flavor that comes when you don't overwhelm the product with sugar. As you can see they are advertising "low in sugar".
I think it is funny how they say "as close to real as a spoon can get you". Does that make any sense? Did they just want to put "real" in a sentence?
The nutritional facts for Madagascar Vanilla & Cinnamon:

120 calories, 2.5 g fat, 1.5 g saturated fat, 11.0 g carbohydrates, 9 g sugar, 12 g protein, 0 g fiber, 55 mg sodium, 4 Freestyle SmartPts
There is added sugar here and I would guess that it is around 4 grams (a little less than a teaspoon). While it is not as good as Siggis no sugar added – it is far better than the old days of 21 grams of sugar in yogurt.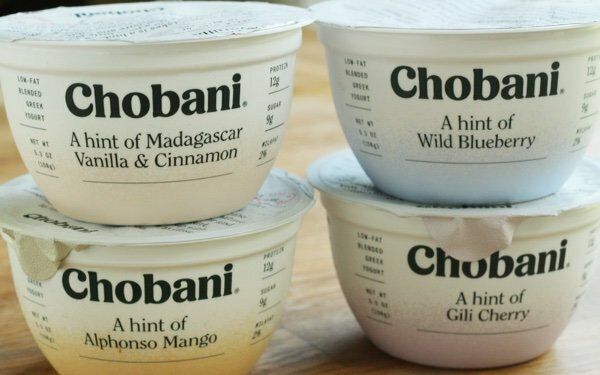 There is no added stevia or sucralose or chicory root fiber and you can tell because it tastes really good. The chalkiness of Greek yogurt is somehow gone and the flavor is subtle. It tastes like yogurt – not dessert – and it is creamy.
My family liked this a lot and it is at a friendlier price point than the Siggi's. I am giving this an A- and maybe Chobani will start speaking to me again.
Or not. Who knows?
Another entry into the lower sugar division is YQ made my Yoplait. I didn't understand the name – I thought it was called YO until my daughter pointed out that it is a Q next to the Y.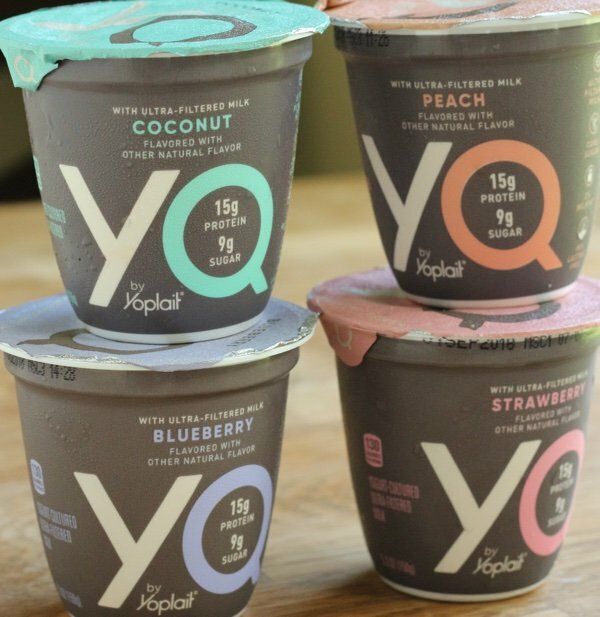 YQ is a play on IQ and I believe you need a high IQ to understand why they are promoting "ultra-filtered milk". The filter is used to lower the amount of natural sugar so it keeps the protein and calcium but has less sugar than regular milk. I would know that because I am a yogurt expert with an average IQ.
I guess what they are saying is that it is not Greek yogurt. Greek yogurt is strained to make it high in protein.
Here are the nutrition facts for the coconut flavor:
130 calories, 2.5 g fat, 1.5 g saturated fat, 9 g carbohydrates, 9 g sugar, 15 g protein, 0 g fiber, 80 mg sodium, 4 Freestyle SmartPts
Why you would filter out sugar AND THEN ADD SUGAR BACK is beyond me. But that is what they did.
Honestly, this was one of the worst yogurt products I have ever tasted and I have tried it all. Do the people at General Mills taste what they create? It is truly awful. The texture was strange and the flavor was bizarre. It actually tasted too sweet.
I don't know what I can say except that it must be over engineered to some degree. It doesn't work and I feel bad being so harsh because I know Yoplait worked hard to develop it.
We know Yoplait isn't going to talk to me ☺
Finally, I saw this and decided I would give it a try. Coconut milk yogurt!! I was thinking that coconut milk was a good choice because it is naturally low in sugar. No filtering needed!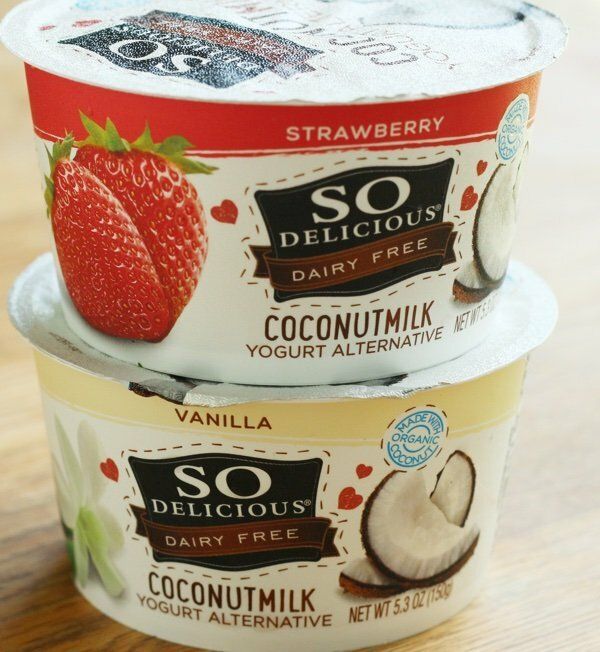 But as you can see – this product has 15 grams of sugar therefore So Delicious managed to mess it up. Here are the nutrition facts:
120 calories, 4 g fat, 3.5 g saturated fat, 21 g carbohydrates, 15 g sugar, <1 g protein, 2 g fiber, 30 mg sodium, 6 Freestyle SmartPts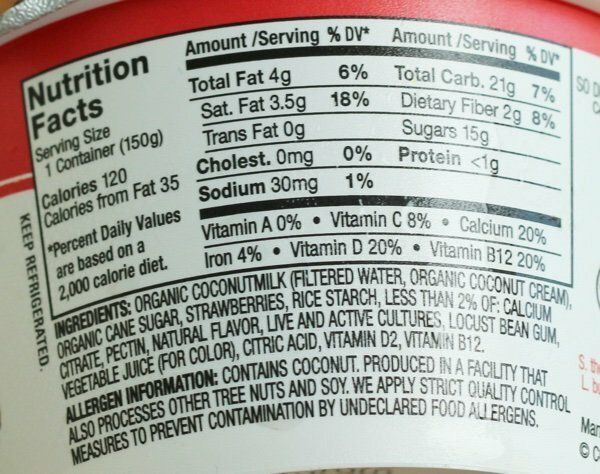 This was a very unusual yogurt – if you want to call it that. It was more like a custard. It did have live yogurt cultures but they didn't turn the coconut milk into a yogurt that I recognized.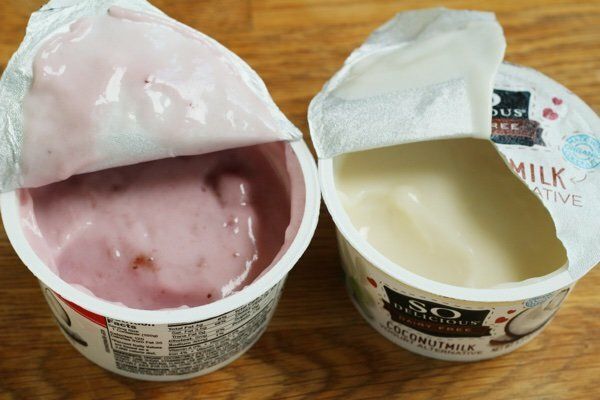 I like this for dessert. I thought it was good if you called it "pudding" – it would make sense.
So Delicious should market it is an all natural, sweet, delicious dessert next to the crappy puddings.
Have you tried any of these products? What did you think?