Chocri Bar Winners!
December 28, 2010
The Chocri Bar Winners are (via random selection) Michael and Kati!.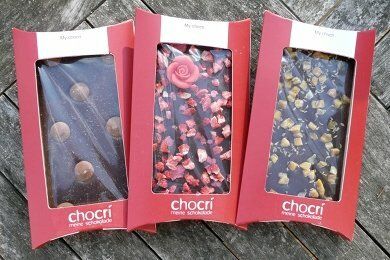 Michael's Chocri Bar:
Well..as I started to peruse the Chocri site I thought Dark Chocolate with strawberries and basil would be my choice but then I saw the Bourbon vanilla and Lord knows I love me some Bourbon!
But then I thought Caramel & rosemary could be awesome with some white chocolate..or mint and lime like a Mojito! (I dont have a drinking problem..lol) but then I was sad there wasn't a bacon option or better yet a maple bacon option.i can't decide!! It all look so good!
YES! Bacon and maple! dreamy.....
(Michael writes a fun blog - check it out: the Gay Gourmet)
Kati's Chocri bar:
wow, this is so tempting! I wanted so many things, but I'd have to go with ground coffee beans, coconut shavings, pecans, pretzels, and blueberries. YUM!
Thanks for entering, everyone! If you didn't win, you can always go buy one at Chocri.