Rub It On Your Skin or Eat It: The Benefits of Coconut Oil
You know how you were the last to find out that EVERYONE was getting their hair cut like Jennifer Anniston in "Friends"?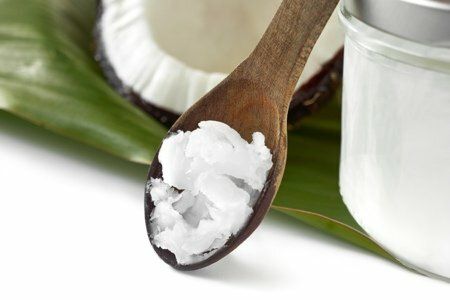 Okay, you guys were probably all over that the first season. It took me about 7 seasons to ask for the famous haircut and the hair stylist rolled her eyes.
Back in June, I wrote a post - The Healthiest Cooking Oils - and the first comment was from Jess:
How about coconut oil? I've seen a lot lately that says it's a great alternative to all of the above choices.
Snack Girl, again asleep at the wheel. Actually, in my defense, I was looking at the oils that you can find next to the salad dressings, etc. Virgin coconut oil, at least at my store, can be found in the "Natural Foods" section and costs quite a bit more than more common oils ($7 for 14 ounces).
Is it worth it?
From Once a Villain, Coconut Oil Charms the Health Food World
"Most of the studies involving coconut oil were done with partially hydrogenated coconut oil, which researchers used because they needed to raise the cholesterol levels of their rabbits in order to collect certain data," Dr. Brenna said. "Virgin coconut oil, which has not been chemically treated, is a different thing in terms of a health risk perspective. And maybe it isn't so bad for you after all."
Virgin coconut oil is not as processed as other oils and people use it for everything. Put in it your coffee, rub it on your skin, use it as diaper cream, prevent stretch marks, vegan baking, mayonnaise....(see 101 Uses For Coconut Oil).
Wow! This stuff is awesome!
There is even a scientific study that shows that coconut oil (2 tablespoons a day) seems to promote a reduction in belly fat (Effects of Dietary Coconut Oil on Abdominal Obesity). The saturated fat in coconut oil is different than the saturated fat in butter (or other animal products). Coconut oil is considered heart healthy.
I use it in baked goods (see below recipe) because it adds sweetness and has a wonderful texture. I haven't tried it for cooking stir-frys or other savory foods, yet. As with anything (especially food with surprising health claims), I use it in moderation.
Finally, be sure to buy "virgin" because it has been cold-pressed. The minute you apply heat to this stuff it changes.
Do you use virgin coconut oil? What recipes do you use it for?
---
$16.90 ($1.06 / Fl Oz) Buy on Amazon.com
As an Amazon Associate I earn from qualifying purchases.
---
Other posts you might like:
---

Snack Girl has been asked about the healthiest oils a bunch of times and keeps dodging the question....
---

If you read Snack Girl enough, you know that I like a challenge. I had seen vegan cookies at cafes and thought, "no butter, no eggs, equals a disgusting cookie"....
---