In a Hurry? Try a Coffee Smoothie for Breakfast
A god friend of mine does not like to eat breakfast, but she does like to drink coffee.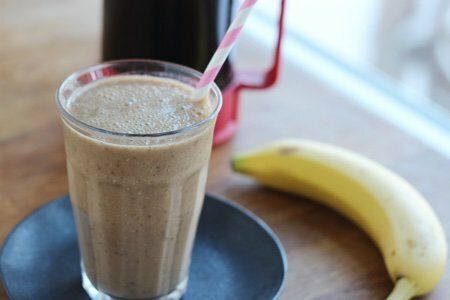 She does find that eating breakfast helps her with her energy level during the day so she is always looking for ways to make her first meal palatable.
As a coffee fan myself and frequent "grab-and-go" breakfast eater, I like the idea of mixing coffee with some other healthy things and slurping it up as I run out the door. Also, I usually have some cold leftover coffee sitting around.
Coffee is also a wonderful flavoring agent – not unlike chocolate – in its intensity.
I used chia seeds in this smoothie because I bought some for my Chocolate Chia Seed Pudding. They add a thickness to the smoothie which makes it more like a milkshake.
The fact that chia seeds are high in calcium, iron, fiber, manganese, magnesium, selenium, and vitamin B6 is also pretty nice. These seeds are expensive but they keep for a long time and they are a great investment in your health.
Have you tried putting coffee in your smoothie?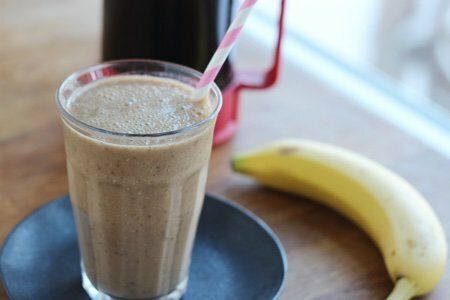 Coffee Smoothie Recipe
Makes 1 serving
Ingredients
½ cup cold coffee
½ cup unsweetened almond milk
1 small banana
1 heaping teaspoon chia seeds
Instructions
Put coffee, almond milk, banana, and chia seeds in a blender and blend until smooth. Serve immediately.
Nutrition Facts
128 calories, 3.2 g fat, 0.0 g saturated fat, 24.3 g carbohydrates, 12.5 g sugar, 2.8 g protein, 5.0 g fiber, 109 mg sodium, 3 Points+
Points values are calculated by Snack Girl and are provided for information only. See all Snack Girl Recipes
Other posts you might like:
---

Snack Girl has had MANY readers tell her to try "green" smoothies. Well, before last Tuesday, I had one word for them - YUCK!...
---

Sometimes I wish I was the kind of person who would walk by an ice cream store and not notice it....
---
---
Get Free Email Updates! Yes please!
---