Cold Tomato Soup
Cold tomato soup is also known as gazpacho. If you haven't tried a cold soup, now is your moment when the produce is fresh.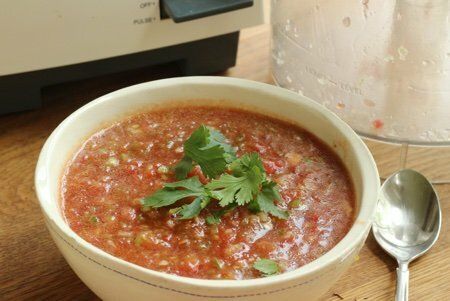 I have heard that in Spain, they eat some of this cold tomato soup before lunch as a starter. How smart is that? Fill up on lovely vegetables and then eat. We should all give that a try. Would you eat less? Maybe. You would definitely eat healthy.
At my farm stand on my street (because I live in the middle of nowhere), I was able to find almost all the ingredients for this soup. Green pepper, cucumber, tomatoes, red onion, garlic, and some tomato juice are all you need for a basic version.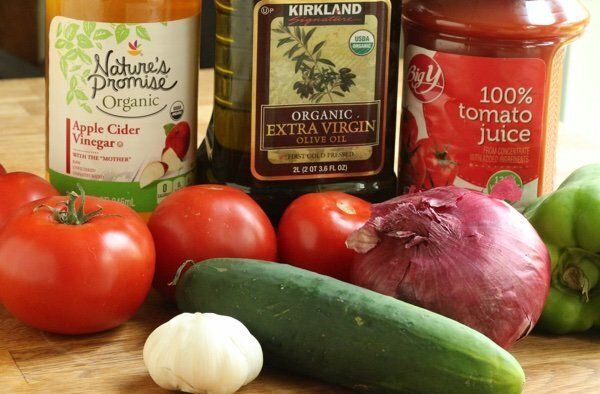 I would like to rename this soup – Cook with Your Food Processor Delicious Tomato Soup – because you don't actually use a stove or heat. You use your food processor to get the ingredients into a small enough form to make a great soup.
I use a high power blender to make my zucchini soup – which is also perfect for summer.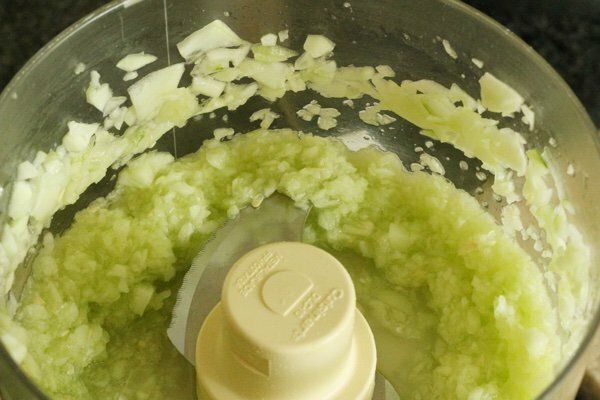 I use the sharp blade in the processor to mince the ingredients into small enough pieces for soup. The blade also releases liquid from the vegetables making a cold "broth" for sucking off your spoon.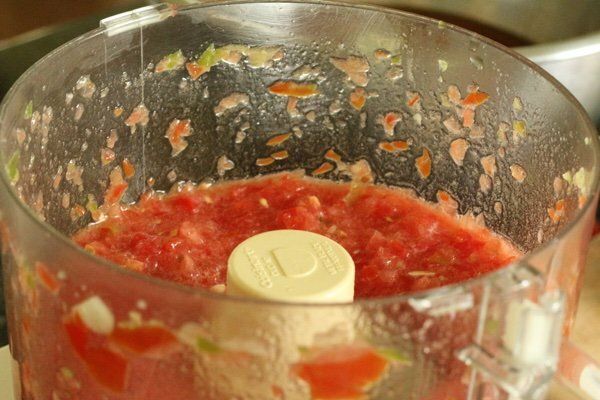 The ripe tomatoes really get macerated and release all of their juices with the food processor.
My kids called this "salsa soup" because they said it was like eating salsa. It is not a puree so it does have a salsa mouth feel. I love to serve this on a hot day and slurp it up with some fresh bread or crackers. This cold tomato soup tastes like summer!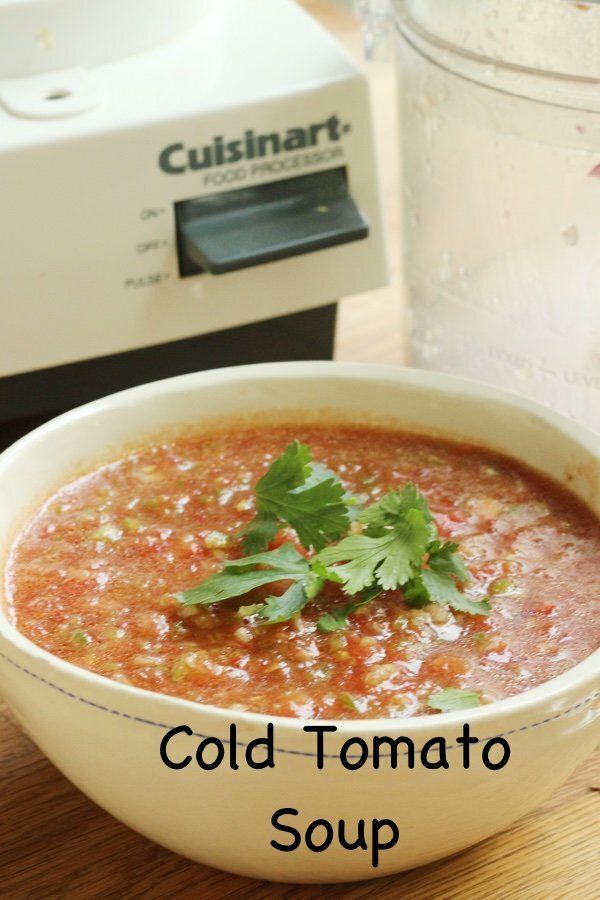 Keep this soup in your fridge for days and let the flavors steep. It gets really good about the third day.
I love to add Tabasco to mine for that extra pop of flavor but feel free to use lime juice, and/or Worcestershire sauce (but no vodka ☺).
Do you eat cold soups in summer? What do you make?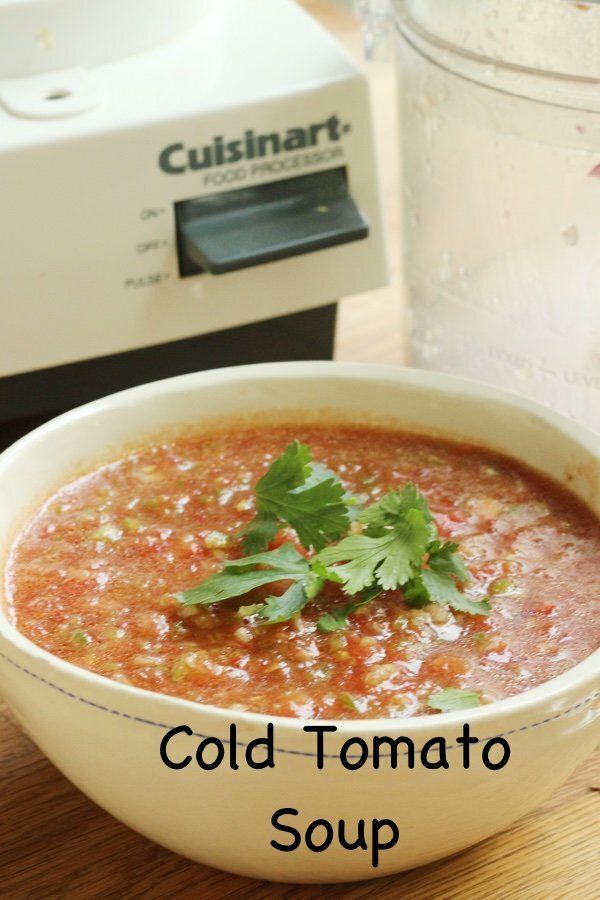 Gazpacho Recipe

Makes 8 cups, one per serving

Ingredients
2 cups tomato juice
¼ cup cider vinegar
2 tablespoons olive oil

1 medium cucumber, peeled
1 green or red bell pepper, cored and seeded
1 ½ pounds fresh tomatoes
½ small red onion, peeled
3 garlic cloves, peeled

Instructions
In a large bowl combine the tomato juice, vinegar, and olive oil. Cut the cucumber, pepper, tomatoes, and onion into large chunks. In your food processor, chop the cucumber until minced and put in large bowl. Repeat with pepper, tomatoes, onion, and garlic dumping the food processor into the bowl after each ingredient.
Stir the mixture and adjust seasonings by adding salt, pepper, hot sauce, Worcestershire, and lemon or lime juice. Refrigerate until cold and serve.
Nutrition Facts
For one cup = 71 calories, 3.8 g fat, 9.0 g carbohydrates, 5.2 g sugar, 1.7 g protein, 1.9 g fiber, 169 mg sodium, 1 Freestyle SmartPts
Points values are calculated by Snack Girl and are provided for information only. See all Snack Girl Recipes
Other posts you might like:
---

Do you have a pile of zucchini yet and need to know what to do with it? Dust off your Vitamix and make zucchini soup.....
---
---
Get Free Email Updates! Yes please!
---