Are You Inside A Bubble?
Guess where Snack Girl took this photo. Was she in Las Vegas? Omaha? Memphis?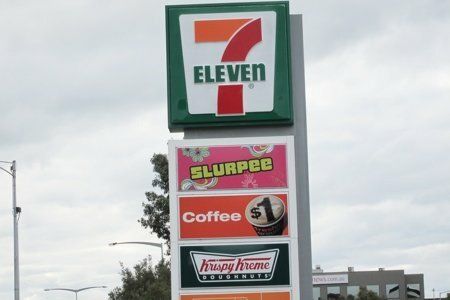 Nooooo. I was in a land far far away from the United States. I mean FAR. Try to imagine sitting on a plane for 15 hours to get there.
Okay, feel the pain in your rear section? Now, imagine where you land. This photo is of a 7-Eleven in Melbourne, Australia. And, yes, I visited Melbourne to take photos of convenience stores (actually, I was visiting my husband's family - but the reason I was there doesn't matter).
First of all, I want to apologize on behalf of the entire United States for sending Slurpees and Krispy Kreme to Australia. I am sure that Australia would like to avoid an obesity epidemic and American corporations need to sell this stuff everywhere.
Secondly, I want to admit to driving slowly by a Krispy Kreme outlet in a small southern town in which I used to live hoping that the HOT sign would be red.
What I want to talk about is the bubble that we all find ourselves in. Almost anywhere we go we can find the things that make us feel comfortable. Especially, the junk food that reminds us of home.
Another example - in 1989, I spent 4 months in Paris for a study abroad program. Guess what I found on one of the most iconic streets, the Champs Elysee? A McDonald's!! I was shocked. How could the land of haute cuisine have this American outlet of junk on this boulevard? This McDonald's did serve beer to twenty year olds so that part was cool :)
I have been lucky in my life to travel to beautiful places. But, even if I am just driving by the 7-Eleven on my block, I need to choose not to eat the junk food they promote.
It isn't always easy to eat healthy and you have to do some work to pop your bubble. It isn't comfortable to say "no" to this stuff everywhere you turn. If you are like me, you notice advertisements for junk food on every sign, bus, and storefront in every country and place you visit.
You have to be strong enough to walk, drive, run, or hobble past to find a place with food that is nourishing.
How have you dealt with your bubble?
---
Other posts you might like:
---

Snack Girl loves bananas. Some would say she is bananas for bananas....
---

Snack Girl has read only a few books in her life that have made a lasting impact on what she eats....
---