How To Become A Better Cook
One of the main principles of healthy eating is that you are going to have to stop eating fast food and prepared processed food.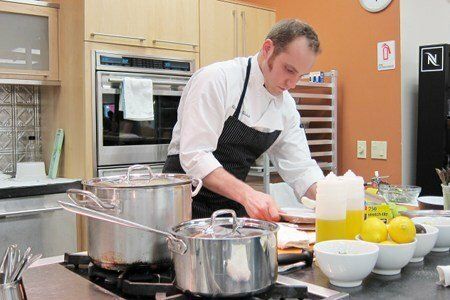 Unfortunately, if you aren't buying prepared food, you are going to have to cook. What if you don't like cooking? aren't a foodie? or like to watch the Food Network just for fun?
What if the Food Network came to you LIVE and you could taste the finished product? You could get up close to examine techniques and ask questions of the chef. He would even answer them!
Sound too good to be true? Snack Girl recently attended a cooking class at a local cooking school - Different Drummer's Kitchen - and I could sample the vittles and ask all my pressing cooking questions.
Now, since I write recipes, you are probably wondering why I might need to go to class to learn more. Your healthy cooking guru has A LOT to learn about food and I am always looking to expand my horizons.
Why go to a cooking class?
You will be surrounded by people enthusiastic about cooking. Some of that enthusiasm can rub off.
The chef will teach you a few techniques that will save you time in the kitchen.
You don't have to cook for an evening (a class and a meal).
I had to make dinner for my family (a bit sad, isn't it?) and then cruise out to make it to this class on time. What did I learn? I learned about using a fish spatula (who knew there was such a thing) and that it is better to layer the spices as you cook then to add them all at the end.
I also had a nice evening off from the nighttime fight to "not brush my teeth" and the common "I'm not tired!!!....zzzzz"
Next time, I hope to bring a pal so we can learn together.
Have you gone to cooking classes? What have you learned?
---
Other posts you might like:
---

Hey, Snack Girl - that isn't even a photo of a vegetable! Are you asleep or something?....
---

My friend Nikki is a food writer and photographer. She produces a beautiful website: art & lemons.
---