What You Need To Know About Cool Whip
Sometimes the food we buy is less about actual food and more about science. This "food" does tend to come in tubs, plastic packages, or bottles.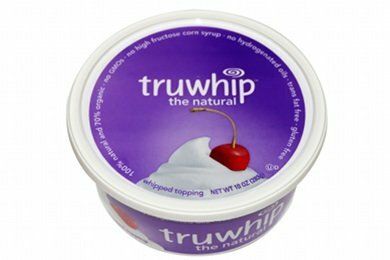 Cool Whip, made by Kraft, is one of those wonder products that saves time. No whisk or blender needed - just a tub of this stuff and you are in ice cream sundae heaven.
That convenience will cost you. At an average of 41 cents per ounce, you're buying mostly water and air for just over twice what it would cost to whip real cream yourself.
Below is a video summary of the ingredients that are found in Cool Whip (it is pretty funny):
Now, if that grosses you out - you have another option that seems a bit better - truwhip (photo above) is billed as "not your mother's whipped topping" .
They have dropped the high fructose corn syrup and a bunch of the other questionable ingredients.
truwhip ingredients:
Water, organic tapioca syrup, expeller-pressed palm kernel oil, organic cane sugar, organic palm kernel oil, contains less than 2% of each of the following: organic soy protein concentrate, sodium caseinate (milk protein), organic tapioca starch, natural flavors, organic soy lecithin, xanthan gum, guar gum. contains milk and soy.
Here are the nutritional facts: For 2 tablespoons = 30 calories, 2 g fat, 3 g carbohydrates, 0 g protein, 0 g fiber, 0 mg sodium, 1 Points+
Again, it is going to cost you at $3.69 per tub - but it tastes really delicious and is a great way to turn plain fruit into a dessert. I have written about some other options that have come on the market in this post - healthy Cool Whip.
Finally, there is homemade whipped cream - which is my preference when I have the time. The bonus is that you burn calories while making it! Homemade whipped cream has the same amount of calories as the two packaged toppings and it tastes amazing.
Of course, you can't store it for weeks in your fridge :)
Check out this clear and concise post on how to make your own whipped cream on Real Simple.
What do you think of Cool Whip?
Other posts you might like:
---

Healthy Cool Whip is an actual product category. You can find alternatives to the famous Cool Whip brand at Whole Foods!....
---