Costco Rotisserie Chicken
Costco rotisserie chicken is a huge hit. It seems that no one leaves the store without it.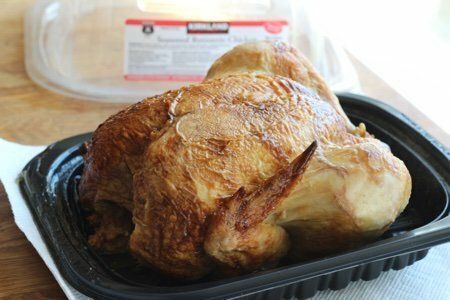 I live a 20 minute drive from a Costco so it wasn't my first choice for a quick meal BUT after learning about how popular they are I decided to go and get my hands on one of these birds.
Why so popular? For $5 you get a three pound fully cooked chicken. This bird costs less than if you cook it yourself – wow!
They sell 60 million of these a year and had an outbreak of salmonella in 2013 where they had to recall 40,000 pounds of birds from ONE location in California. Isn't that insane?
I am assuming that since this happened Costco has cleaned up its act.
If you read my last post on rotisserie chicken you know that I care about sodium, amount of time on the "hot" table, and antibiotic free birds.
How did Costco do? Here is the side of the package: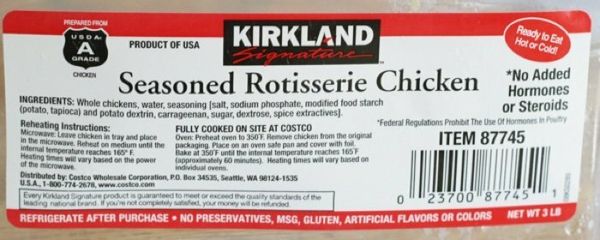 As you can see the chicken is injected with a marinade that includes salt. I asked if they had "unseasoned" chickens, but they do not carry them (Whole Foods does).
The nutrition facts for the Costco rotisserie chicken:
3 ounces is 140 calories, 7 g fat, 2.5 g saturated fat, 0 g carbohydrates, 0 g sugar, 19 g protein, 0 g fiber, 460 mg sodium, 4 SmartPts
That is A LOT of sodium for 3 ounces of chicken and you can taste it. I think it is too salty.
How did they do on the hot table? The deli worker informed me that they pull the Costco rotisserie chicken every two hours but there never is any chicken left.
Here is my evidence that is true: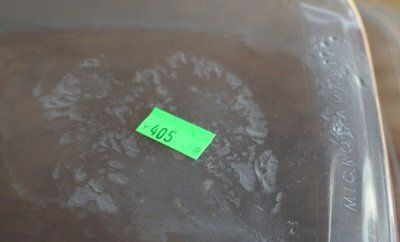 This little green label is the time that the bird was placed on the hot table. I picked this chicken up at 4:10 PM and half the table was already empty. These literally FLY out of the store.
Finally, as you can see from the label, it does not say antibiotic free. The good news is that Costco stated in March 2015 that they are phasing out all chicken that has been dosed with antibiotics. Hurray! I love it when corporations do the right thing.
If I lived closer, I would be buying these every once in a while because my kids loved it. It is cheap, easy, and saves me messing up my kitchen. Because of the sodium, I wouldn't make it a weekly thing – maybe more like a monthly thing.
I will say that the best choice on my rotisserie chicken journey would be the Whole Foods plain, no salt, rotisserie chicken, $15 for two chickens. These are antibiotic free.
If you have the dough, $12 for organic, plain, no salt would be the best (but at that point why not cook your own?).
I make a Slow Cooker Whole Chicken that takes me far less time than driving to Costco and my family loves it!
UPDATE: as of April 2016 Costco is still using antibiotics in its chicken. There is no timeline that I can find for when the use of antibiotics will be phased out.
Please share you thoughts on Costco rotisserie chicken.
---
Other posts you might like:
---

This is my mug shot of a rotisserie chicken. As you can see, I didn't shoot its best side.
---

There seem to be a never-ending source of recipes that use "cooked chicken"....
---