You Need To Cook With This Berry NOW! (Healthy Muffin Recipe)
Have you noticed the lovely bags of red berries greeting you in the produce aisle? Fresh cranberries are here!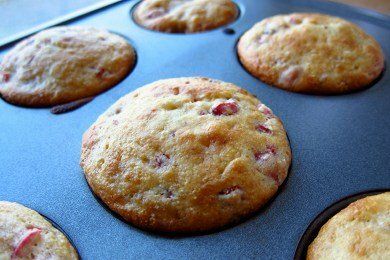 For those of you who like your cranberries in the shape of a can, it is time to GROW UP and try them fresh. I'm not sayin' you should give up on your can, I'm just suggesting that you try the fresh version because they rock.
I live in Massachusetts, which is famous for its cranberry bogs. Each year, I drive to Cape Cod and harvest my own wild cranberries with my hip waders on. Then I woke up :)
What to do with them? On the side of the cranberry package you will find some suggestions for great cranberry sauces that are simple to make or you can check this one out on the Food Network.
I also like to use them in muffins and since cranberries are sour - a good combination is cranberries and cornmeal. The cornmeal has a sweeter flavor than regular flour and helps out with the sourness of the cranberry.
In this muffin recipe, I substituted buttermilk for BUTTER which is a great trick for lowering calories without compromising flavor.
They are so much healthier for you than the 540 calorie, 26 grams of fat MUFFIN MONSTER that I featured here: This Blueberry Muffin Has a Dark Secret.
My son inhaled these and liked them for breakfast. They are great with coffee or espresso and I have one for an afternoon snack.
What do you make with fresh cranberries?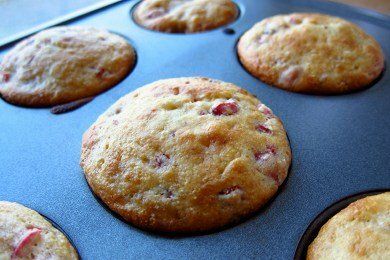 Cranberry Corn Muffin Recipe

(makes 14 muffins)
1 cup fresh or frozen cranberries
1 cup all purpose flour (or white whole wheat flour)
1 cup yellow cornmeal
2/3 cup sugar
1 tablespoon baking powder
1/2 teaspoon baking soda
1 1/4 cup buttermilk
1/2 cup milk
1 large egg (beaten)

Preheat oven to 400F. Line muffin cups with paper liners. Coarsely chop cranberries in food processor or with a chef's knife.
Mix dry ingredients in large bowl and then add wet ingredients and cranberries. Mix until just combined. Fill muffin cups close to the top and bake until golden (about 20 minutes). Enjoy! Freeze some for the future.
For one muffin using lowfat milk: 123 calories, 1.1 g fat, 25.9 g carbohydrates, 3.1 g protein, 1.2 g fiber, 80 mg sodium, 3 Points+
Points values are calculated by Snack Girl and are provided for information only. See all Snack Girl Recipes
Other posts you might like:
---

I know what you are thinking. How can a muffin save a life? Don't we usually use things like electrified paddles?....
---

This blueberry muffin seems like an innocuous food. But, lurking in its floury depths lies a painful truth....
---
---
Get Free Email Updates! Yes please!
---