Dannon Oikos Review
This Dannon Oikos review came about because it seems like the shelf is sprouting new yogurts on a daily basis.
I cannot believe how many choices there are WITHIN ONE BRAND that is a subset of Stonyfield yogurt. Stonyfield was purchased by Danone Group (only of interest if you follow yogurt as I do).
I like taking a look at yogurt because so many people rely on them as a delicious source of protein (and they are a snack). I have written an Oikos Triple Zero review and a Chobani 100 review in the last year.
What about all these Oikos yogurts? The first thing to be aware of is that they are not all Greek yogurt. How about that? Also, they are not all the best choice if you are looking to be healthy.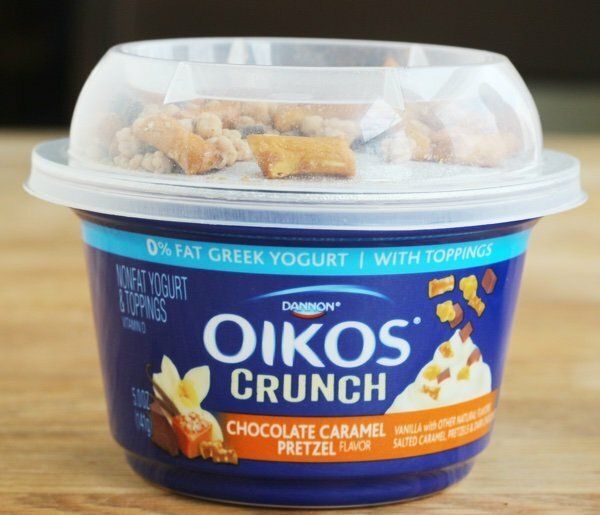 Oikos crunch is Greek yogurt but I would call it a dessert item. When you add chocolate caramel pretzel to a yogurt it generally means more sugar. This yogurt has a whopping 23 grams (over 4 teaspoons in 5 ounces). I have to say taste wise that I like the Chobani flip better (also a dessert).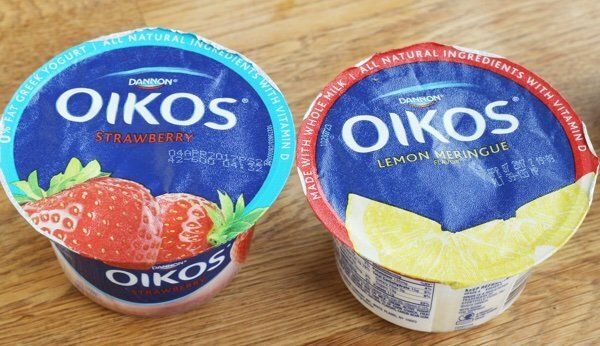 These two Oikos yogurts are interesting. One is zero fat (blue label) and the other is made with whole milk (red label). If you are color blind, you are in trouble.
Both feature 14 grams or so of sugar BUT the whole milk yogurt has 4.5 grams of fat.
Nutrition facts for strawberry Oikos zero fat:
110 calories, 0.0 g fat, 0.0 g saturated fat, 15.0 g carbohydrates, 14 g sugar, 12 g protein, 0 g fiber, 50 mg sodium, 4 SmartPoints
Nutrition facts for Lemon Meringue Oikos whole milk:
150 calories, 4.5 g fat, 3 g saturated fat, 15.0 g carbohydrates, 13 g sugar, 11 g protein, 0 g fiber, 50 mg sodium, 6 Smart Points
I wish they had decided to lower the sugar in the whole milk version because it tastes so much better than the non-fat. The fat gives it depth and I think it would be perfect with 6 grams of sugar – but alas.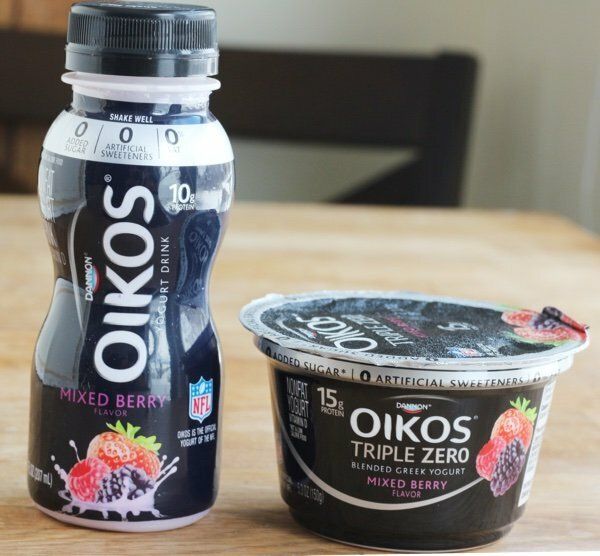 Finally, we have the Triple Zero – blended Greek yogurt that I like and this weird yogurt drink. Do not confuse the drink with the yogurt even though they have the same black packaging. THEY ARE NOT THE SAME THING and you have to stand there for 5 minutes to determine how they are different.
The Oikos yogurt drink was terrible. It tasted like fake berry, sweetened chalk. It promises 10 grams of protein but it also has 11 grams of sugar.
When are these companies going to learn that we love more protein but we also want less sugar?
These both use Stevia but the Triple Zero yogurt has zero added sugar – only 6 grams for a 5.3 ounce serving. This sugar naturally occurs in the milk. The yogurt has 15 grams of protein.
Have you tried any of these? What do you think?
---
Other posts you might like:
---

Those black containers up there with the NFL logo don't exactly look like they are being marketed to women....
---

Chobani is the yogurt we all should love. Look at that packaging!....
---