Try Your Dates With A Little Bit of Nut Butter
It is very hard to find something that peanut butter doesn't make better.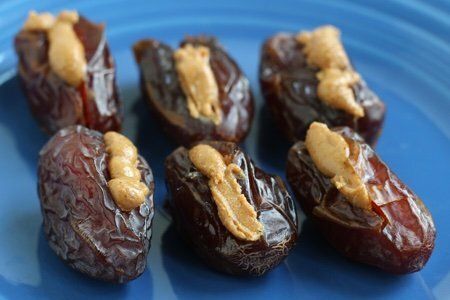 Okay, well I can think of a few things (especially if you are allergic to peanuts). But, apples, bananas, oatmeal, toast, and all sorts of cookies are transformed with some peanut butter.
Did I mention chocolate?
Last month, I visited Medjool date country and found out that Medjool dates are fresh fruit. One of the nights we were there the crew left a peanut butter stuffed date (dipped in chocolate and sea salt) on my pillow (in a box) as a night-time treat.
I was full from dinner but I am a sucker for a box on my pillow. I ate it and then realized that dates and peanut butter go together quite well. Yum!
When Natural Delights sent me a box of Medjool dates, I knew immediately what I was going to do with them – stuff them with peanut butter!
Wow! These are so good. They are fantastic with coffee and they hit my afternoon sweet craving. I think they would be wonderful with almond butter or simply a walnut stuffed inside the date.
Have you tried to stuff a date with peanut butter? Why not?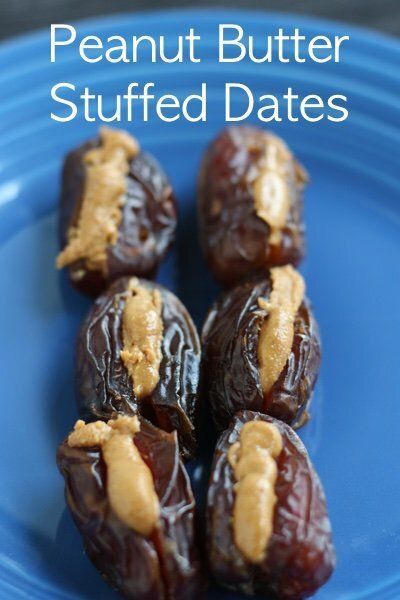 This product was received for review consideration. No other compensation was provided.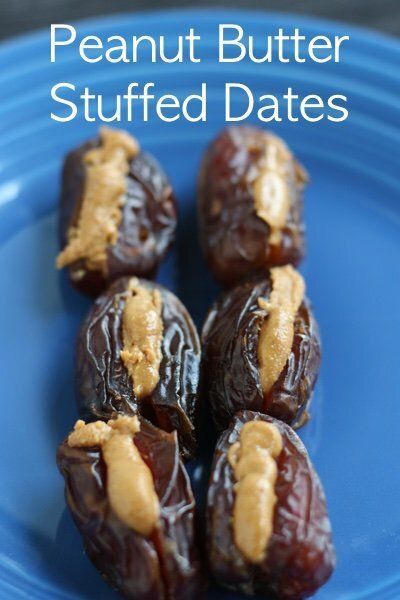 Peanut Butter Stuffed Medjool Dates
Makes 6
Ingredients
6 Medjool dates, sliced down the middle pit removed
2 tablespoons peanut butter or whatever nut butter you prefer
Instructions
Put peanut butter into sandwich bag and squeeze toward a corner. Slice the corner off and pipe one teaspoon of peanut butter into each date.
Enjoy!
Nutrition Facts
One date is 85 calories, 2.7 g fat, 0.6 g saturated fat, 15.2 g carbohydrates, 12.7 g sugar, 2.0 g protein, 1.7 g fiber, 24 mg sodium, 1 Points+
Points values are calculated by Snack Girl and are provided for information only. See all Snack Girl Recipes
Other posts you might like:
---

The above bowl is filled with a fresh fruit that looks like a large raisin....
---

One of the biggest hits on Snack Girl has been the No Bake Brownie Balls....
---
---
Get Free Email Updates! Yes please!
---