Is There A Healthy and Delicious Frozen Meal Out There?
When I go to the supermarket, I am always checking out what people have in their carts.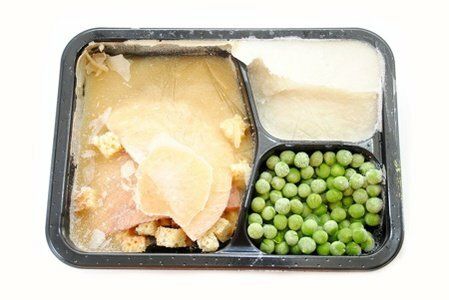 I wear sunglasses inside for this purpose. If you see the 44 year old mother of two in the supermarket wearing shades – that is me.
Frozen meals – sometimes stacks of them – are popular. Obviously, we all try to cook but when we can't many of us lean on frozen meals to help us out.
Some of these meals are catering to those of us trying to lose weight such as Smart Ones, Lean Cuisine, and Healthy Choice. I decided to try one turkey meal from all three brands to see if I could make a recommendation.
I have received a number of e-mails complaining that I am not writing my posts when I do a video. I do hear you so I am going to summarize my videos from now on.
All three brands are way too high in sodium to say that they fit the healthy bill. The worst was Smart Ones Slow Roasted Turkey breast with 700mg of sodium. I found this meal to be tasteless, strangely textured, and simply inedible.
The best meal was Healthy Choice Slow Roasted Turkey Bake – nutrition facts: 180 calories, 6 g fat, 2 g saturated fat, 18 g carbohydrates, 3 g sugar, 14 g protein, 3 g fiber, 520 mg sodium, 4 Points+
This meal surprised me because they packed it with green beans and butternut squash. If they knocked 200 mg of sodium off of it – I could recommend this meal. Pair with an apple or a banana, this meal makes an easy lunch.
The Lean Cuisine Glazed Turkey Tenderloins BLEW MY MIND with a whopping 19 grams of sugar. What? I believe some of it was due to the natural sugar in the sweet potato but they also added sugar. This meal was edible – tasted sweet (duh) – but I wouldn't recommend it.
Which is your go-to frozen meal and why?
---
Other posts you might like:
---

I received an e-mail from a reader who was stuck going to McDonald's because her co-workers wanted to stop there after an offsite meeting....
---

We eat with our mouths but also our eyes. It can be hard to determine how much you really need to eat.
---