What is the Difference Between a Dietician and a Nutritionist?
Before you get advice from a diet expert you should know the difference between a dietician and a nutritionist...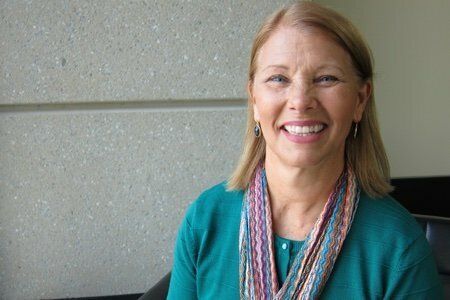 Isabel Maples, Med, RDN (photo above), is a registered dietician nutritionist and a deeply kind person.
I met her at FNCE, the Food & Nutrition Conference and Expo where registered dieticians meet every year to go over the latest research.
Before I share what I learned from Isabel, I want to discuss the difference between a registered dietician nutritionist and a nutritionist.
The title "nutritionist", in most of the US states is not legally protected. Anyone may call themselves a nutrition expert even if they are wholly self-taught. One way to look at the two professions is that all dietitians are nutritionists, but not all nutritionists are dietitians.
To become a registered dietitian nutritionist you need to:
1 Take the specific set of courses outlined by the Academy of Nutrition and Dietetics (AND). This can be completed at the undergraduate OR graduate level.

2. Complete the required internships, also outlined by AND.

3. Pass the RDN exam.

After becoming an RDN, you must continue to take classes and attend events to maintain your certification.
Isabel worked hard to become a registered dietician and I found her to be excellent source of nutrition information and strategies for healthy eating.
If you feel like an individualized approach will help you get to your goals, check out a RDN in your area. Sometimes you get lucky and your health insurance will pay for you to be seen by an RDN.
I asked Isabel about the biggest challenge she has seen for her clients. She told me that many people want to eat healthier but they don't want it to interfere with their lifestyle. Having to commit time to shopping, scratch cooking, and learning new cooking skills is a big barrier for many.
Her advice was to choose one nutrition goal and make it the focus until you achieve it. For example, if you go out to lunch four or five times a week, try to get that number to once or twice. If you want to eat less, try smaller plates. She firmly believes that you don't have to deprive yourself of the unhealthy foods you love to get healthier (but you will have to eat less of them).
She helps her clients identify the changes they can easily make to have the biggest impact on their road to healthier eating.
Personally, I think Registered Dietitians Nutrtionists are the bees knees. They know their stuff, they want to share it, and they help many make huge diet and lifestyle changes that lead to better lives.
Big hugs to all of them!!
If you need an RDN go to EatRight.org and click on "find an expert" in the upper right hand corner. You can enter your zip code there and find a dietitian near your home to help you.
Have you ever worked with a registered dietician? Please share your experiences.