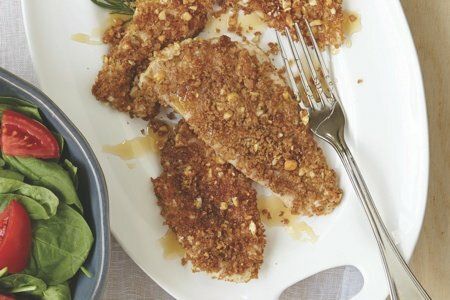 Rosemary Oven-Fried Chicken Recipe

Reprinted with permission from Cooking Light Dinnertime Survival Guide: Feed Your Family. Save Your Sanity by Sally Kuzemchak
Hands-On Time: 15 min. Total Time: 40 min.

Ingredients
1/4 cup nonfat buttermilk
2 tablespoons Dijon mustard
4 (4-ounce) chicken cutlets
1/3 cup whole-wheat panko (Japanese breadcrumbs)
1/3 cup finely chopped dry-roasted cashews
3/4 teaspoon minced fresh rosemary
1/4 teaspoon kosher salt
1/4 teaspoon freshly ground black pepper
1/4 teaspoon ground red pepper
Cooking spray
4 teaspoons honey
Rosemary sprigs (optional)

1. Preheat oven to 425°.
2. Combine buttermilk and mustard in a shallow dish, stirring with a whisk. Add chicken to buttermilk mixture, turning to coat.
3. Heat a small skillet over medium-high heat. Add panko to pan; cook 3 minutes or until golden, stirring frequently. Combine panko, cashews, and next 4 ingredients (through ground red pepper) in a shallow dish. Remove chicken from buttermilk mixture; dredge in panko mixture.
4. Arrange chicken a wire rack coated with cooking spray in a foil-lined jelly-roll pan. Bake at 425° for 25 minutes or until chicken is done. Drizzle each cutlet with 1 teaspoon honey. Garnish with rosemary sprigs, if desired. Serves 4 (serving size: 1 cutlet).
Instructions
CALORIES 248; FAT 8.7g (sat 1.8g, mono 4.2g, poly 1.4g); PROTEIN 27.4g; CARB 15.1g; FIBER 1.1g; CHOL 73mg; IRON 1.4mg; SODIUM 375mg; CALC 30mg, 6 Points+
Points values are calculated by Snack Girl and are provided for information only. See all Snack Girl Recipes