Feed Your Family and Save Your Sanity with This Cookbook
Sally knows something about losing her sanity since she has two young kids.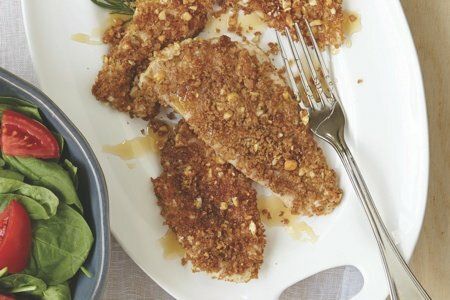 Yes, they can be quite crazy – "No, you can't put your finger in the socket!" – "The spoon is not for your ear!" – "Give me the car keys!"
Maybe not the car keys problem – yet.
She is the author of the blog Real Mom Nutrition and of a new book – Cooking Light Dinnertime Survival Guide.
Sally is a registered dietician who is out to make dinnertime both healthy and fast. I think her book is beautiful (lots of lovely photos) and it covers all the dinnertime dilemmas in my house.
For example – "I have zero time!" or "I can barely boil water!" and my personal favorite – "I'm on a diet, they're not."
I get the question about how to feed a family when someone is on a diet all the time. The recipe below is easy, fast, healthy and low in calories. You can't go wrong!
My only problem with the book is the focus on "women" as being the primary source of dinner every night. Maybe it is true that women are still cooking a majority of dinners around the country - but in my house, my partner cooks half the meals. He needs this book, too!
Whether you are a dad, mom, guardian, grandparent, or a teenager who wants to help out – this book has a bunch of easy, delicious, affordable, and fun recipes for your family.
How do you deal with the dilemma of being on a diet when you cook for your family?
This book was received for review consideration. No other compensation was provided.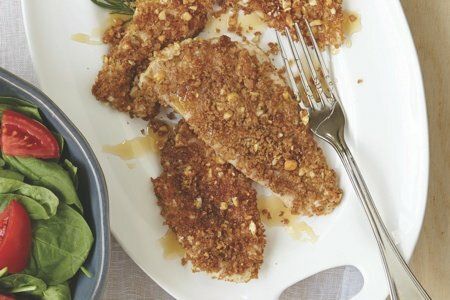 Rosemary Oven-Fried Chicken Recipe

Reprinted with permission from Cooking Light Dinnertime Survival Guide: Feed Your Family. Save Your Sanity by Sally Kuzemchak
Hands-On Time: 15 min. Total Time: 40 min.

Ingredients
1/4 cup nonfat buttermilk
2 tablespoons Dijon mustard
4 (4-ounce) chicken cutlets
1/3 cup whole-wheat panko (Japanese breadcrumbs)
1/3 cup finely chopped dry-roasted cashews
3/4 teaspoon minced fresh rosemary
1/4 teaspoon kosher salt
1/4 teaspoon freshly ground black pepper
1/4 teaspoon ground red pepper
Cooking spray
4 teaspoons honey
Rosemary sprigs (optional)

1. Preheat oven to 425°.
2. Combine buttermilk and mustard in a shallow dish, stirring with a whisk. Add chicken to buttermilk mixture, turning to coat.
3. Heat a small skillet over medium-high heat. Add panko to pan; cook 3 minutes or until golden, stirring frequently. Combine panko, cashews, and next 4 ingredients (through ground red pepper) in a shallow dish. Remove chicken from buttermilk mixture; dredge in panko mixture.
4. Arrange chicken a wire rack coated with cooking spray in a foil-lined jelly-roll pan. Bake at 425° for 25 minutes or until chicken is done. Drizzle each cutlet with 1 teaspoon honey. Garnish with rosemary sprigs, if desired. Serves 4 (serving size: 1 cutlet).
Instructions
CALORIES 248; FAT 8.7g (sat 1.8g, mono 4.2g, poly 1.4g); PROTEIN 27.4g; CARB 15.1g; FIBER 1.1g; CHOL 73mg; IRON 1.4mg; SODIUM 375mg; CALC 30mg, 6 Points+
Points values are calculated by Snack Girl and are provided for information only. See all Snack Girl Recipes
---
$24.95 $6.86 Buy on Amazon.com
As an Amazon Associate I earn from qualifying purchases.
---
---
Get Free Email Updates! Yes please!
---