High Fashion Needs To Get A Clue
The above photo is of a teenage girl visiting the library. This is the kind of image that I wish my 11-year-old daughter would see in magazines.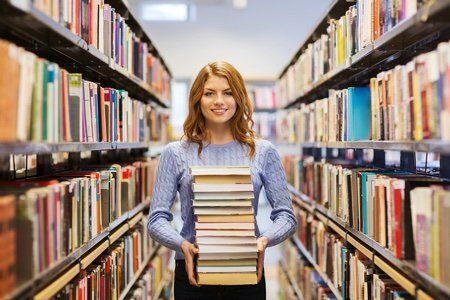 I know some of you are laughing right now. Teenagers with books instead of make-up and cool shoes? What have I been smoking?
Christian Dior, a high fashion house based in France, recently used a 14-year-old model at a runway show. She wasn't wearing a sweater and jeans – you can see the photos here: Dior Couture Show.
Her outfit was a long sheer dress which clearly shows her breasts and her white underwear. It was basically like wearing a gauzy curtain over her body. I find this shocking and Dior seems to want to shock.
You know what would be truly shocking, Dior? Using women with hips, breasts, and wrinkles in your show to emphasize how gorgeous, amazing, and sexy WOMEN over the age of 40 can be.
From the New York Times:
when you dress children up in makeup and heels, the implication is that they are sexual objects, and more often than not, that is how the images are read by the public.
Is a 14 year old supposed to look like a sexual object? The age of consent in France is 15 so I would argue that she is too young to be objectified (by a hair).
Do we want to go back to the 1980'a when a 15-year-old Brooke Shields announced, "You want to know what comes between me and my Calvins? Nothing."
Women don't want to look like teenagers – they want to look like women and using under-age models to sell your clothes is perverse. Dior doesn't care about how women view themselves nor does the line care about sexualizing children. I realize that they think that this "look" will sell clothes.
When I discussed the latest younger models with a retail executive (and asked him why retailers don't put pressure on designers to use age appropriate models), he stated, "It is like asking an artist not to use red paint."
Teenage girls should not be treated as objects to be used in a "show". This young model is a person and it is hard for me to believe at the age of 14, she made a mature decision to show the world her breasts.
These girls are being exploited – yes they are getting paid – but their pubescent bodies should not be for sale.
What I can't understand is why a fashion line thinks they need to "dress up" a child to get a sexy look. Why can't you simply dress up a sexy woman?
What can we do about it? Boycott Dior – but I couldn't afford that stuff anyway. I'm not sure how to stop them – any ideas would be appreciated.
What do you think of using a 14-year-old model to sell clothes to women?