DIY Cranberry Sauce: You Will Never Go Back To The Can
Last year I posted this recipe and thought, "No one is going to read this."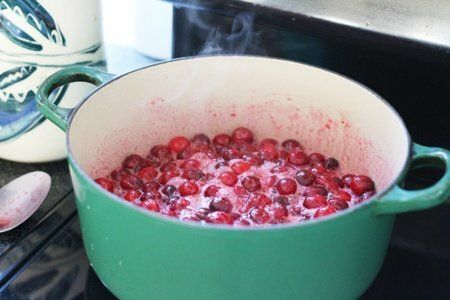 I guess I didn't think there was an interest in making fresh cranberry sauce.
Boy, was I wrong. This recipe got thousands and thousands of views. This year, I was featured on Redbook.com last week in an article on Thanksgiving Hacks.
I have attended a Thanksgiving where a gelatinous can-shaped thing arrived at the table and it was dubbed "cranberry sauce". Oh no. You see, I am a cranberry sauce snob.
I learned that all you have to do is the recipe below and you have mind-blowing cranberry sauce. It is so simple and almost as easy as opening a can and plopping said purplish goop in a bowl. Believe me.
Fresh cranberries can be found EVERYWHERE right now in your produce section. Yes, they might set you back $3 but your family and friends will applaud when you serve this.
Above in the photo is my pot of cranberry sauce bubbling away for all of 10 minutes. At the stage in the photo, the berries are just about to pop.
I mix in ground cinnamon and ground ginger because I am super lazy (do not want to peel ginger or buy cinnamon sticks). I shake in about ½ teaspoon each until I like the flavor.
The sauce firms up in the fridge and looks beautiful when served in a bowl (unlike the other stuff).
Do you make fresh cranberry sauce? How do you make it?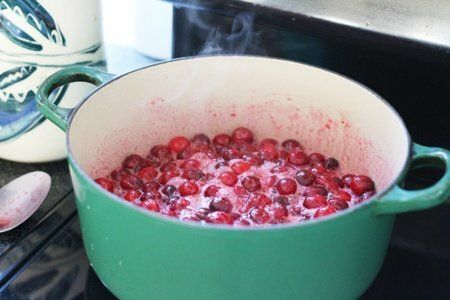 Cranberry Sauce Recipe
Makes 2 cups
Ingredients
1 cup sugar
1 cup water
4 cups (1 12-ounce package) fresh cranberries
Optional: ground cinnamon, ground or fresh ginger, orange zest, pecans, walnuts, allspice, raisins, dried apricots

Instructions
Wash cranberries and check for duds. In a saucepan, mix sugar, water, and cranberries. Bring to a boil, and then reduce heat and simmer for 10 minutes or until cranberries burst.
Add optional ingredients and then chill in refrigerator. This will keep in the refrigerator for about a week (if your family doesn't try to eat it all).
Nutrition Facts
For a two tablespoon serving: 59 calories, 0.0 g fat, 0.0 g saturated fat, 15.4 g carbohydrates, 13.1 g sugar, 0.1 g protein, 1.1 g fiber, 4 mg sodium, 2 Points+
Points values are calculated by Snack Girl and are provided for information only. See all Snack Girl Recipes
---
Get Free Email Updates! Yes please!
---