Do-It-Yourself Doritos
Frito Lay better watch out because we can rise up and make our own Doritos.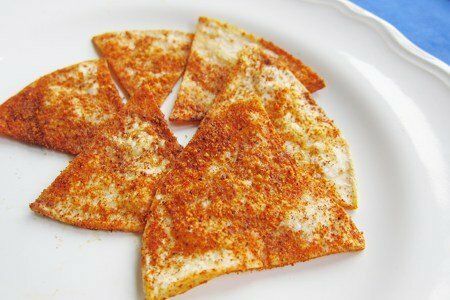 Yes, the "life hacker" crowd is here and no one is going to tell us that we can't attempt to recreate one of the most amazing feats of food science. Doritos have a whopping 33 ingredients including MSG and artificial colors and flavors. Can we do it?
Since, we are going to use real ingredients and our "plant" is our kitchen, the answer is "kinda". It is fun to try to make your own chips and if you made a food rule:
I will only eat the chips that I make.
You would probably eat a lot fewer chips. It is much harder to make the chips below than to open a bag. Trust me, I made them.
The most important step here is to ensure that they are crispy without burning them. I let mine go a little too far and they were a bit charred. It did take 20 minutes for them to crisp up.
Look for corn tortillas in the "International Foods" section of your store. They are right there next to the fish sauce, rice noodles, and curry paste. This is the only part of the world where these countries are next to each other.
I did try to store these in a plastic container and they became soggy pretty quickly. I would plan to eat them with friends or just make a couple of tortillas. Maybe you will have better luck.
Give these a try and let me know what you think. They lack a certain chemical taste that you just can't get from any other source :)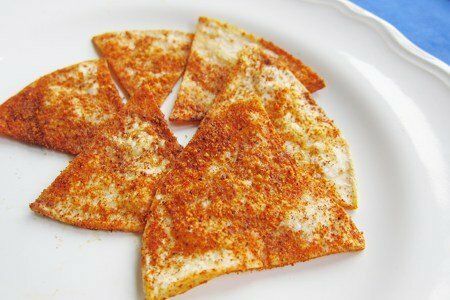 Do-It-Yourself Doritos Recipe

Makes 6 servings of 6 chips each (or one tortilla)

Ingredients
6 6-inch corn tortillas
1 tablespoon vegetable oil
3 tablespoons grated parmesan cheese
1 1/2 teaspoons chili powder
1 1/2 teaspoons smoked paprika
1/2 teaspoon salt

Instructions
Preheat oven to 350 degrees. Lay tortillas on rimmed baking sheet and brush with oil on both sides. Stack them up and cut 3 ways making 6 pieces.
In a medium sized bowl, mix together parmesan, chili powder, smoked paprika, and salt. Toss the sliced tortillas in the spice mix and lay them in a single layer on the baking sheet.
Bake for 15-20 minutes or until crisp. Serve when cooled and enjoy immediately.
Nutrition Facts
For one serving = 88 calories, 4.0 g fat, 1.1 g saturated fat, 11.2 g carbohydrates, 0 g sugar, 2.9 g protein, 1.5 g fiber, 242 mg sodium, 2 Points+
Points values are calculated by Snack Girl and are provided for information only. See all Snack Girl Recipes
Other posts you might like:
---

Chips, why do we love you so? Is it the crunchiness? The saltiness? or the just plain deliciousness....
---

Kale is getting a lot of press and finding its way on all the top blogs. I had to ask this kale to stop on the red carpet to photograph it....
---
---
Get Free Email Updates! Yes please!
---