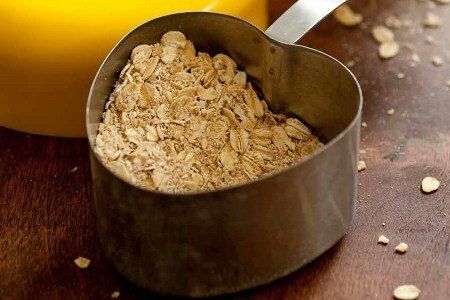 Instant Oatmeal from The Homemade Pantry
reprinted with permission from "The Homemade Pantry" by Alana Chernila
makes 12 to 15 servings
Ingredients
6 cups (1 pound, 3 ounces) old-fashioned rolled oats
½ cup (4 ounces) packed light brown sugar, homemade (below) or store-bought, or more or less to taste
1 tablespoon ground cinnamon
1 teaspoon salt
Optional: dried or dehydrated fruit

Instructions
Preheat the oven to 325°F. Spread the oats on a baking sheet and bake for 20 minutes. Cool slightly.
In the bowl of a food processor, combine 4 cups of the toasted oats, the brown sugar, cinnamon, and salt. Pulse until the mixture is a rough powder.
Pour into a large wide-mouthed jar or container. Pour in the remaining 2 cups of oats and the fruit, if using. Stir thoroughly and top with the lid.
To make the oatmeal, combine 1/2 cup of the mixture with 1 to 1 1/2 cups boiling water. Cover with a plate and let sit for 5 minutes before stirring and serving.
Store at room temperature in covered container up to 4 weeks
Refrigerate in covered container up to 3 months
Freeze in freezer-safe container or bag up to 6 months
Nutrition Facts
For one serving of 15 = 179 calories, 2.8 g fat, 0.0 g saturated fat, 32.6 g carbohydrates, 6.7 g sugar, 5.6 g protein, 2.0 g fiber, 155 mg sodium, 5 Points+
Make your own brown sugar!
Combine 1 cup granulated sugar with 2 teaspoons unsulphured molasses. Fluff with a fork or beat in a stand mixer until the molasses is entirely incorporated in the sugar. There will be a tense moment—the molasses will clump—but carry on! Mix a bit more and you will have brown sugar. For darker brown sugar, increase your molasses. Store in a covered container for up to 6 months.
Points values are calculated by Snack Girl and are provided for information only. See all Snack Girl Recipes