Make A Wonderful Holiday Gift Now! DIY Vanilla from The Picky Eater
If you are like me, you are constantly planning. The holidays may be months away but I love to think about what I am going to give my friends and family.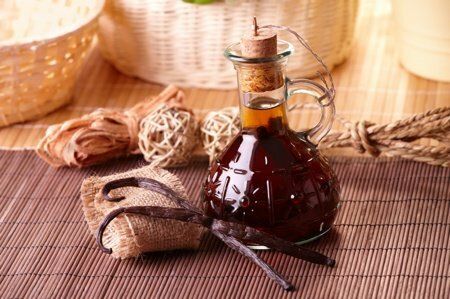 Anjali of The Picky Eater has a wonderful website devoted to healthy food that tastes good. I was intrigued by her DIY vanilla recipe and asked her to share it with us.
It takes 2 months to steep so get on it, people!
Snack Girl: What is your healthy eating philosophy?

Anjali: My healthy eating philosophy is all about balance: eating whole foods, avoiding fast food or processed food, but still leaving a little room for indulgences once in a while.
I believe that you don't have to deprive yourself to be healthy, and that with a few simple tricks, you can make healthy food taste amazing. My philosophy is about having your "cake" and eating it too - as long as it's in moderation!
Snack Girl: Why did you make your own vanilla?

Anjali: I had heard that making your own vanilla from scratch results in a much more flavorful vanilla extract, and I was interested in all the options for customizing it to my tastes. Since it was so easy, I figured I'd give it a shot. And I have to say, the homemade vanilla did taste fresher and was absolutely delicious!
Snack Girl: Where can you buy vanilla beans and small bottles to store the vanilla? How long will it keep?

Anjali: You can buy vanilla beans in bulk on eBay or in Costco for pretty reasonable prices, and I just went to Target to get small glass bottles (inexpensive) for storing the extract! It should keep for months on the counter.
Snack Girl: What is your favorite snack?

Anjali: I'm a huge fan of cut up stone fruits with Greek Yogurt and 1 Tbsp of granola: cherries, nectarines, peaches, plums - so so good!
From The Picky Eater:
Here's how you make vanilla extract at home:
To make 2.5 bottles of extract you need:
▪ 2 cups vodka (unflavored)
▪ 8 vanilla beans

Time to infuse: 2 months

The Directions:
1. Split the vanilla beans in half lengthwise.
2. Place the vanilla beans in a jar and cover with alcohol, making sure they are completely submerged.
3. Cover the jar and give it a shake.
4. Infuse for at least one month (2 months is great for a stronger flavor) in a cool dark place, shaking it from time to time.
5. Strain the mixture through a cheesecloth when you are ready to pour it into bottles.
Enjoy! (And feel proud of yourself that you created your own vanilla extract!)
Have you made your own vanilla? Please share.