This May Be Your Secret to Getting Healthy
Snack Girl has a big announcement to make.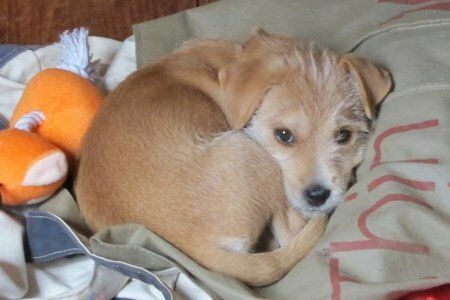 My family has adopted a puppy. I realize that this is a shock to most of you because I am clearly not the type to own a pet - but there he is.
This rescue pup was my daughter's idea. After answering the question for an entire year – Mom, when can I have a dog? – we decided that she wasn't going to stop and relented.
We have had Milo for a month now and I have noticed a few things about my health. First of all, he, while small, takes up some space on the couch where I like to sit. Since he is a puppy, he tends to chew on me so I get up quickly.
Also, I am going outside more to ensure he doesn't ruin my floors with his frequent bathroom habit. I have been known to RUN outside with him to ensure I don't have to clean up yet another puppy mess (you know what I speak of).
Finally, I find myself smiling more. Everyone in the family is loved by Milo. He greets me in the morning, when I come home from work, when I go out to take out the trash….he is always excited to see me.
The conclusion is, I am:
Sitting less.
Exercising more.
Happier.
In a Weight Watchers meeting, I heard a story about a widower who lost control of her eating after the death of her husband. After a year, she got a dog and lost the weight — and while I am sure the dog didn't replace her partner — something about owning a dog comforted her.
If you want to get maximum exercise benefit from having a dog, set a daily routine that involves him. Try to walk at the same time each day and on those days that you don't feel like moving, your dog will nudge, pull, and whine to get his daily exercise. Who needs a personal trainer? (I do :)
Obviously, not everyone can own a dog because they may live in a place that doesn't allow them — or they can't afford them (you have to feed it, take it to the vet, etc.) — or they just don't like dogs.
If you are interested in this pet-to-healthy method with limited dog access perhaps you can help out at a shelter or start a dog walking part-time business? I'm sure we can come up with something.
Do you have a dog? Does he/she help you get healthier?
---
Other posts you might like:
---

Snack Girl recently heard about a gym that charges $160 per month for something called "Cross-Fit".
---

Julie is one of those success stories you want to share with all of your friends
---