Chocolate Popcorn Rocks
Drizzle: to pour in a fine stream. Drizzle is a super cool word because you can hear it.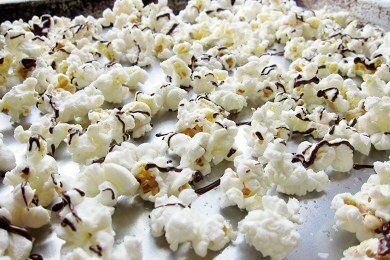 I know you have some drizzle happening outside your house right now. March, at least for the East Coast, is drizzle time.
Let's take the power of drizzle and turn into a force for good. For this popcorn, I used one ounce of dark chocolate - and it turned into THREE cups of popcorn.
All that dark chocolate goodness was spread all over the place and it made for a very low calorie chocolate treat. My kids gobbled this up and thought I was the "Best Mom Ever" for at least five minutes.
I used a microwave and popped my popcorn without oil see: DIY Microwave Popcorn: Healthy, Yummy, and CHEAP. I hear you can just put the popcorn in a glass bowl with a lid on it - and you will get perfect popcorn.
If you like salt, add it at the very end of the process. I like salty, chocolatey, popcorn - and the salt will stick to the melted chocolate. YUM!
How do you dress up your popcorn?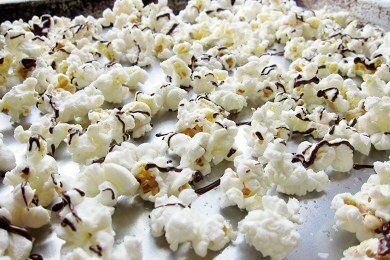 Chocolate Drizzled Popcorn Recipe
(serves 2)
Ingredients
1/4 cup popcorn kernels
1 ounce dark chocolate
coarse salt (optional)
Instructions
Using a microwave or air popper - make your popcorn without using any oil. Spread popcorn on rimmed baking sheet. Heat chocolate in microwave for 10 second intervals until melted. Be careful because chocolate burns easily.
Drizzle chocolate over popcorn and shake some salt on it. If you are in a hurry put it in the fridge for 5 minutes and the chocolate will harden. Enjoy!
Nutrition Facts
For one serving = 122 calories, 4.7 g fat, 17.8 g carbohydrates, 2.5 g protein, 2.3 g fiber, 12 mg sodium, 3 Points+
Points values are calculated by Snack Girl and are provided for information only. See all Snack Girl Recipes
Other posts you might like:
---

Snack Girl is sitting in a sleeting mess of a storm. She is dreaming of white sand and turquoise water....
---

The snack aisle is one of the worst places in the grocery store to find a snack. But, there is an exception.
---
---
Get Free Email Updates! Yes please!
---