Shame On You Dunkin' Donuts'
Snack Girl is late to this party, but she is ready to rumble.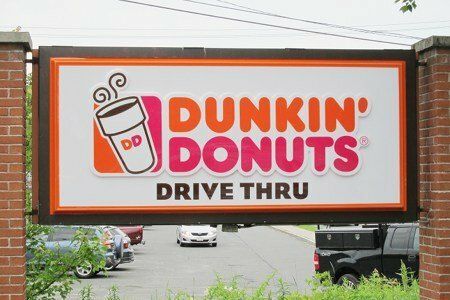 Dunkin' Donuts' is one of my least favorite venues of all the chains that I review. Three years ago, I wrote this about one of their summer drinks - You Can De-Ice an Aircraft With This New WORST Drink Winner.
In June, Dunkin' Donuts' (DD) received a lot of press for a Doughnut Bacon Sandwich that was described as:
mounds of fried eggs and slices of lightly salted, cherrywood-smoked bacon gathered into the sweet, sweet embrace of a "light and fluffy" split glazed doughnut.
A journalist at Time Magazine proclaimed that it "isn't as bad as you think". Really? ( Time Magazine Article on Dunkin' Donuts' Doughnut Bacon Sandwich.)
Maybe he drank a Coolatta before he wrote that article.
Some people think this sandwich is genius, others think it is disgusting. Before I go any further, you have got to look at this ingredient list:
Glazed Donut: Donut [Enriched Unbleached Wheat Flour (Wheat Flour, Malted Barley Flour, Niacin, Iron as Ferrous Sulfate, Thiamin Mononitrate, Enzyme, Riboflavin, Folic Acid), Palm Oil, Water, Dextrose, Soybean Oil, Whey (a milk derivative), Skim Milk, Yeast, Contains less than 2% of the following: Salt, Leavening (Sodium Acid Pyrophosphate, Baking Soda), Defatted Soy Flour, Wheat Starch, Mono and Diglycerides, Sodium Stearoyl Lactylate, Cellulose Gum, Soy Lecithin, Guar Gum, Xanthan Gum, Artificial Flavor, Sodium Caseinate (a milk derivative), Enzyme, Colored with (Turmeric and Annatto Extracts and Beta Carotene), Eggs], Glaze [Sugar, Water, Maltodextrin, Contains 2% or less of: Mono and Diglycerides, Agar, Cellulose Gum, Citric Acid, Potassium Sorbate (Preservative), Artificial Flavor]; Fried Egg: Egg Whites, Water, Egg Yolks, Modified Corn Starch, Natural Sauteed Flavor (Soybean Oil, Medium Chain Triglycerides, Natural Flavor), Salt, Artificial Butter Flavor (Propylene Glycol, Artificial Flavor), Xanthan Gum, Citric Acid, Coarse Ground Black Pepper; Bacon: Pork, cured with: Water, Sugar, Salt, Sodium Phosphate, Smoke Flavoring, Sodium Erythorbate, Sodium Nitrite.
I love "artificial butter flavor" in the morning. With 730 mg of sodium and 8 grams of saturated fat, this sandwich will start your day in exactly the wrong direction.
Here is a photo: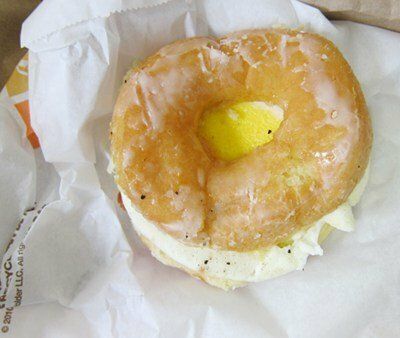 I took exactly one bite of this and tossed it out. It tasted like the ingredients - chemicals. How do you screw up a donut, bacon sandwich? DD seems to have achieved the impossible – an inedible donut, bacon, and egg sandwich.
The egg was like rubber and the whole thing tasted off. Even the bacon was strange!
I don't know why DD finds it necessary to create something like this. They seem to be ignoring the obesity health crisis and perhaps they think it is funny to promote food that resembles a toy.
They did get a lot of press out of creating this combo - and, perhaps, they wanted BUZZ. I'm going to buzz right past my DD in protest.
---
Other posts you might like:
---

When you buy a slushy, ice-cold, blue, sugary drink, you KNOW you aren't making a healthy choice. The famous "Slurpee" machine at the 7-Eleven spews out colorful sludge for hot people....
---

Snack Girl has a donut problem. She can tell you within a five mile radius where all the delicious donuts can be purchased....
---