Want Your Kid To Eat A Healthy Snack? Use a Stick
Sick of trying to get your kids to eat something healthy? Try my method of persuasion involving a stick.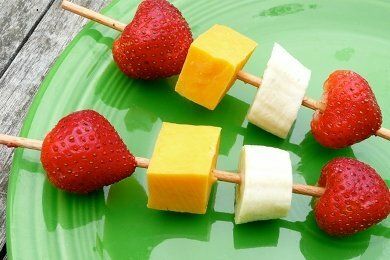 No, I'm not suggesting you beat the crap out of them. (I can hear the police sirens outside my door.) Try shoving a healthy food onto a stick!
This may sound crazy (or even dangerous), but for a certain age group that can handle sticks this is a fantastic way to trick them into thinking they are getting a treat.
I have even been to a party where they gave out apples stuck on popsicle sticks and kids went nuts. There was no caramel in sight, just an apple on a stick and my kids thought they had one the lottery.
Children are much more motivated by the physical appearance of their food than adults. They choose things by sight, perhaps because they don't have the experiences that adults have had with food. For example, I love Brussels sprouts and my children will not touch them. I can remember not being so sure about Brussels sprouts and then I had them a few times, and now I love them.
The best way to serve this snack is to get the kids involved so you don't have to do any work. Get some barbeque skewers and butter knives and let your children cut up the soft food. My 6 year old does great work with apples, cheese, bananas, chicken, etc. with a butter knife.
Then give them the sticks and have them design their own snack. Let them pick out the food they want to use from the refrigerator. There are SO many options: olives, lunch meat, bread, fruit, vegetables, cheese - almost anything can be put on a stick!
Your imagination is the only limitation for your fancy stick snack. You can wrap these in plastic wrap and put them in a lunch box. I would cut off the sharp end if you have a child that is a bit feisty at lunch time (you don't want his best friend to lose an eye).
How do you dress up your snacks?