A Fantastic Snack From A Scary Place
You guys been anywhere scary lately? How about Costco where all your money seems to get scared out of your wallet?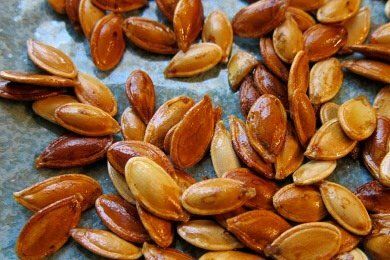 No? The inside of a pumpkin is pretty scary because if feels like your hand is covered in worm guts.
If you can tough it out - and I know you can! Pumpkin seeds are nutritious snack food for you to stuff in your purse, lunch box, or backpack.
When you are carving your pumpkin, use a bowl to collect seeds and stringy parts. Then, get your children to pick out the seeds :)
The key to cleaning the pumpkin seeds is to toss them into a colander and run some warm water on them. Then just strain the seeds through your hand as you detach them from the orange strings.
Or you can buy roasted pumpkin seeds (see below), which is cheating, but I'm not gonna tell anyone.
Pumpkin seeds are nutritious (ex: 28% of your DV of Iron in 1/4 cup) and they are easy to cook. The fun part of roasting pumpkin seeds is that you can customize the flavor.
Below, I have included a recipe that goes to the salty side of the taste spectrum. Add some cayenne and you will have a spicy and salty snack.
You could try some sugar and cinnamon, or add pumpkin spice. Whatever your favorite spice flavors - just toss them on the seeds. I suggest trying 1/2 teaspoon for one cup of pumpkin seeds to start because you might overwhelm them with spices.
My children are planning to carve TWO pumpkins each this year - so I should have at ton of seeds to roast.
Please share your pumpkin seed ideas.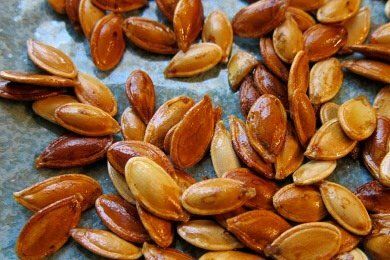 Roasted Pumpkin Seeds Recipe

(makes 4 servings)
1 cup pumpkin seeds
1 tablespoon oil
1/2 teaspoon salt
1/2 teaspoon cumin, curry powder, cayenne, or black pepper (optional)

Preheat oven to 350 F. Line a rimmed baking sheet with tin foil. Remove strings from pumpkin seeds and put in a small bowl. Dry with a paper towel and mix in oil, salt, and spices. Put seeds on baking sheet and roast for 20 minutes (or until golden brown). Toss seeds after about 10 minutes to cook evenly (or you can skip it).
For 1/4 cup = 217 calories, 19.2 g fat, 6.1 g carbohydrates, 8.5 g protein, 1.4 g fiber, 297 mg sodium, 6 Points+
Points values are calculated by Snack Girl and are provided for information only. See all Snack Girl Recipes
Other posts you might like:
---

Why would Snack Girl mess with Thanksgiving? Come on, live a little!...
---

Halloween is arriving in a mere 12 days and it is all my kids can talk about. We are decorating the house and getting ready for the festivities....
---
---
$42.43 ($0.71 / Ounce) Buy on Amazon.com
As an Amazon Associate I earn from qualifying purchases.
---
---
Get Free Email Updates! Yes please!
---