The Best Way To Holiday Detox
The word of the week is "detoxification". Need to remove any toxic substances?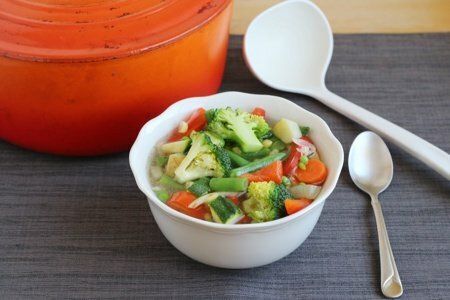 Don't do one of those lemon juice and cayenne pepper diets! Simply start eating more vegetables and the fiber, nutrients, and goodness will flush your system. Flushhhhhhh
This is a very common vegetable soup recipe that you need to make and store in your fridge for this time of year. Why?

1. It is COLD!
2. This soup is filled with liquid that will help you rehydrate (it is DRY!).
3. Salad isn't going to cut it with the temperatures below freezing. Cold leafy greens….yum.

In my brilliant book, Snack Girl To The Rescue!, I include variations on cream of mushroom, chicken noodle and split pea soup (and a few more) because soup is both comforting and easy to fill with vegetables. Have I mentioned that you can get a copy of the book and some free snacks and recipes here: Snack Girl Offer?
(I'm going to drive you all crazy by the time this thing is done.)
There is a lot of chopping involved here, but this recipe makes a lot of soup. I toss some cooked chicken or turkey into this to bulk it up for my kids. My kids also put grated cheese and mashed up tortilla chips on top. Hey, whatever it takes.
You don't have to use bouillon cubes for this recipe if you don't have them. I use chicken stock, water mixed with white wine, or only water if I don't have anything else. The nice thing about bouillon cubes is that they keep in your pantry.
I chop with the stock pot next to my cutting board so I as I get the vegetables cut up, I toss them into the pot. This soup has 66% of your daily value of vitamin C, 62% of your daily value of vitamin A, and 9% of your daily value of iron.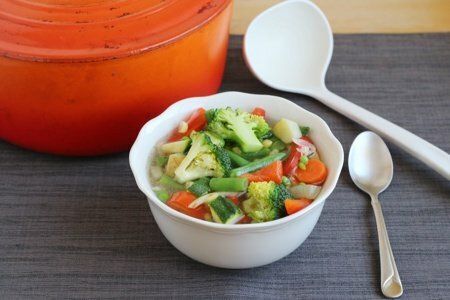 Vegetable Soup Recipe

Makes 8, 1 ½ cup servings

Ingredients
1 large onion
2 carrots, peeled
1 medium potato with skin
¼ pound green beans, trimmed
1 head broccoli
1 tomato
1 green pepper
1 zucchini
1 cup frozen corn
½ cup frozen peas
4 bouillon cubes (chicken, beef, vegetable)
5 cups water
1 teaspoon dried marjoram
1 teaspoon dried thyme
salt and pepper to taste

Instructions
Cut onion in half, peel off skin, and slice. Slice carrots into ¼ inch slices. Cut potato, green beans, and broccoli into ½ inch chunks. Chop green pepper and zucchini. Place onion, carrots, potato, green beans, broccoli, tomato, green pepper, zucchini, corn, and peas into a large stockpot.
Add bouillon cubes, water, marjoram and thyme and bring to a boil. Reduce heat to medium low and simmer, uncovered, for 15 minutes or until potatoes are cooked through.
Enjoy immediately or freeze for later consumption.
Nutrition Facts
79 calories, 0.5 g fat, 0.0 g saturated fat, 17.1 g carbohydrates, 4.4 g sugar, 3.3 g protein, 3.9 g fiber, 338 mg sodium, 2 Points+
Points values are calculated by Snack Girl and are provided for information only. See all Snack Girl Recipes
Other posts you might like:
---

Snack Girl has been asked multiple times about canned soup and I couldn't bring myself to research the topic. Why?....
---

There is more than one way to create comfort. One way involves lots of calories and icing....
---
---
Get Free Email Updates! Yes please!
---