Egg Salad with Greek Yogurt and Dill Sandwich
Have you ever made egg salad with Greek yogurt? Recipes are just like music – they evolve over time.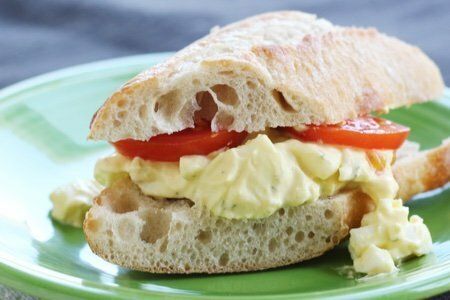 Egg salad is a perfect food for updates because using a ton of mayonnaise in anything is currently out!. It is also the perfect food because it is inexpensive and easy to make.
Greek yogurt wasn't really around when I was a kid and we all know it is a huge hit because of its thickness and additional protein when compared to regular yogurt.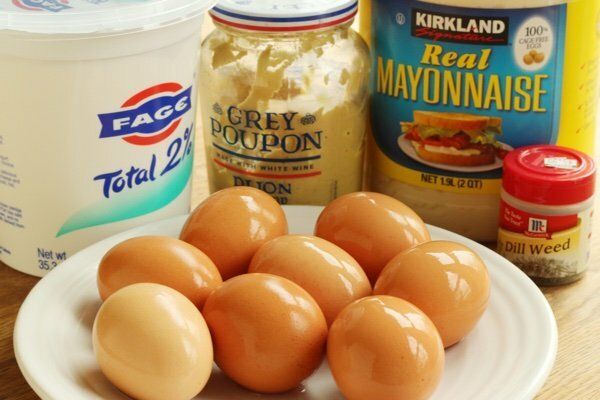 Replacing the mayonnaise with Greek yogurt does three things. It brings the calorie count way down, adds more protein, and, I would argue, makes it more delicious than the original version.
I have replaced the mayo with Greek yogurt in my healthy buffalo chicken dip recipe and my lighter Caesar dressing without the mayo recipe. Both of these options are really good. You don't notice that you have changed out the fattier stuff.
You can add anything else you want to this to spice it up. A dash of Tabasco, parsley, chopped celery, pickles, and green onions are all easy and delicious additions.
I like to eat my egg salad with a fork over a bed of lettuce with a slice of 100% whole wheat bread on the side. This way, I eat more vegetables and go lighter on the carbs. If I am taking this in a lunch box, I ALWAYS pack my bread on the side so the sandwich doesn't end up soggy – yuck!
This recipe uses Greek yogurt with 2% fat. If you have non-fat – that will work as well. I think that the additional fat in the Greek yogurt makes it less chalky.
I know plenty of people who won't eat Greek yogurt because it has a chalky texture. The best way to avoid that problem is to eat the version with some fat in it.
Some people will not want to make this because they don't like peeling eggs. I can't blame you! It can be a mess. Here are a few tips:
1. Use eggs that have been in your fridge for 10 days - old eggs are easier to peel.
2. Place eggs in a saucepan and cover with 2 inches of water.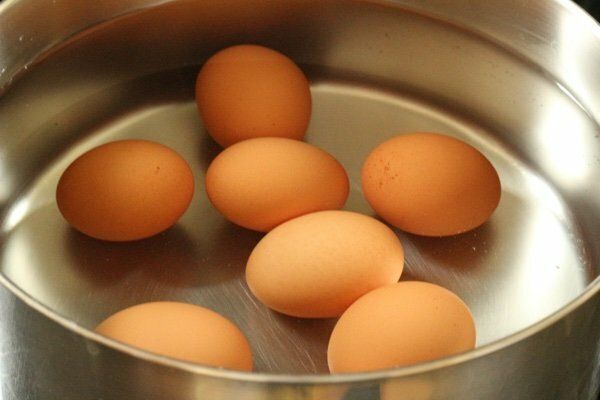 Heat to a boil, turn off the heat, and leave the eggs in the pot (covered) for 13 minutes. This seems to be the magical number - 13!!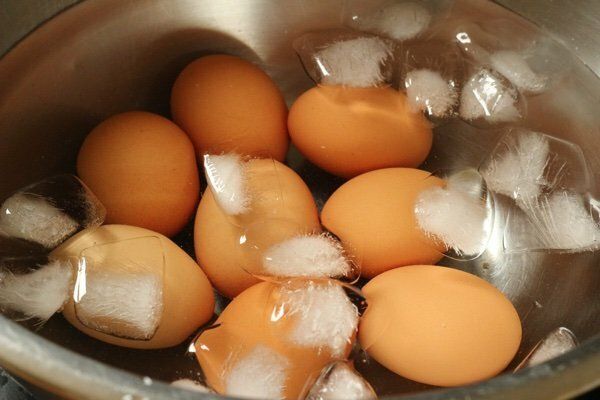 3. Set up an ice bath and transfer the hot eggs into the cold water. Leave them there for 5 minutes and then peel.
I bang my eggs in a circle, cracking all the peel before I attempt to remove it. I find that this boiling method makes quick work of egg peeling.
This egg salad is simple to prepare because all you do is put the eggs in a bowl with the yogurt, etc. and MASH.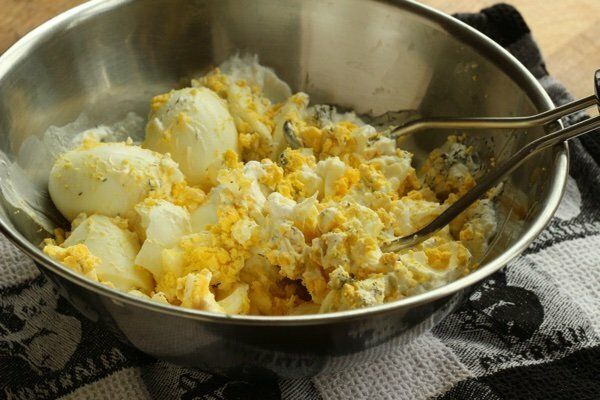 The eggs out of the water bath are soft (not rubbery) so they mash easily.
I keep this in my fridge and eat it all week for lunch (unless my children find it - they seem to like it).
How do you make egg salad?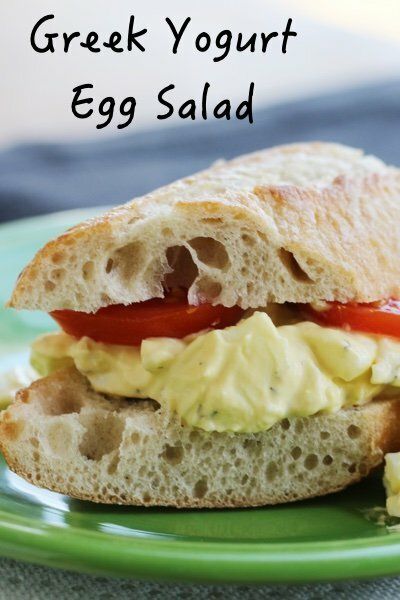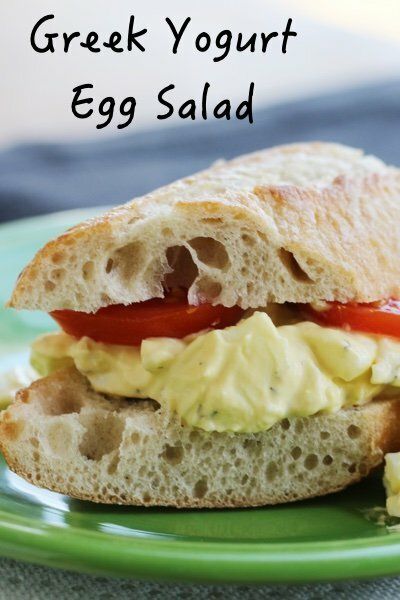 Greek Yogurt Egg Salad Recipe

Makes 6 servings

Ingredients
8 large eggs
2/3 cup plain Greek Yogurt (2%)
1 tablespoon mayonnaise
2 teaspoons Dijon mustard
1 teaspoon dried dill
salt and pepper to taste

Instructions
Place eggs in large sauce and cover with cold water until they are immersed. Bring to a boil and cook for one minute. Cover and remove from heat. Leave for 10 minutes and then drain. When eggs are cool, peel them.
In a large bowl place peeled eggs, Greek yogurt, mayonnaise, mustard, and dill. Using a potato masher, roughly mash and mix eggs until you have your desired consistency. Add salt and pepper to taste.
Serve over lettuce, on bread, in a pita, on crackers or alone. Store in refrigerator for five days.
Nutrition Facts
For ½ cup serving = 128 calories, 8.1 g fat, 2.6 g saturated fat, 2.4 g carbohydrates, 1.8 g sugar, 11.4 g protein, 0 g fiber, 139 mg sodium, 2 Freestyle SmartPts
Points values are calculated by Snack Girl and are provided for information only. See all Snack Girl Recipes
Other posts you might like:
---

Turns out you don't need to buy Caesar dressing or make it with a ton of oil and egg yolks....
---

Buffalo chicken wings are usually served with a few sad sticks of celery but you can make a healthy buffalo chicken dip and serve happy celery....
---
---
Get Free Email Updates! Yes please!
---