A Fun Breakfast for The Rush: Energy Balls
My children's school no longer allows them to bring any nuts. No peanuts, almonds, pecans, cashews, walnuts, hazelnuts – NADA!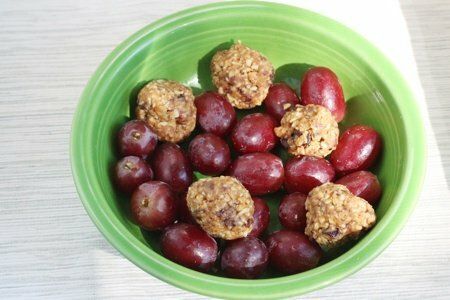 This rule change was due to the fact that there are children with extreme nut allergies and the school district wants to ensure the their safety.
Since I still want my kids to eat nuts because they are a great source of nutrition (and my kids love them), I came up with these "Energy Balls" for breakfast so they can have nuts BEFORE they go to school.
Smart, no?
The best thing about the Energy Balls is that they are raw (no cooking!) and you can make them in a flash. Also, you can store them in the fridge for a week and serve them whenever a child demands a cookie.
These make a great breakfast for the adult who is in a rush and regularly eats packaged breakfast bars. My Energy Balls will rid you of the breakfast bar habit FOREVER. Not kidding.
Have you had to deal with a ban on nuts? What is your solution?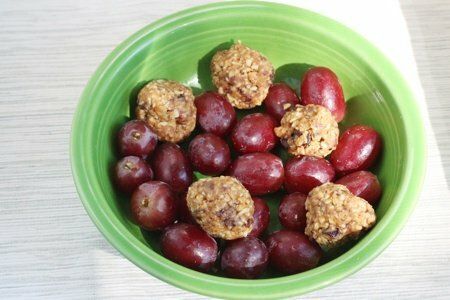 Energy Balls Recipe

Makes 20 balls

Ingredients
1 cup almonds, whole or sliced
½ cup dried fruit such as raisins, cherries, blueberries, or cranberries
½ cup nut butter (peanut, almond, cashew, etc.)
½ cup toasted granola
2 tablespoons water

Instructions
Place almonds in food processor and pulse until chopped. Add dried fruit, nut butter, and granola, and pulse until well mixed. Try to form a 1 inch ball in your hands. If the dough does not stick together add 2 tablespoons of water and pulse again until dough is more sticky.
Make 20 balls and eat immediately or refrigerate for later.
Nutrition Facts
For one ball = 83 calories, 7.1 g fat, 1.1 g saturated fat, 8.4 g carbohydrates, 4.2 g sugar, 3.6 g protein, 1.7 g fiber, 32 mg sodium, 3 Points+
Points values are calculated by Snack Girl and are provided for information only. See all Snack Girl Recipes
Other posts you might like:
---

It is THAT time of year again when we rev our engines and run out the door without our pants on....
---

I am not on a gluten-fee vegan kick right now, but there are some great recipes coming from that crowd....
---
---
Get Free Email Updates! Yes please!
---