How Important is the Family Meal?
Ahh, yes! That is a photo of my house and my happy and clean family enjoying each other.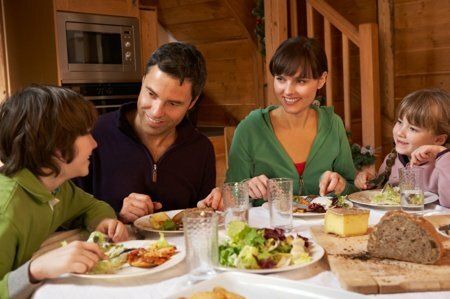 I don't actually know who those people are and I doubt that anyone has it THAT together.
The truth about our family meal is much less beautiful but perhaps more interesting. Someone at the table might shout, "Butt head!" and another person might spit out her food exclaiming, "What IS this?".
Milo, the dog in our house, managed to get to my plate yesterday - eating my cabbage. Don't ask me why the dog wanted to eat cabbage.
Chaos reigns!!! Maybe we should just skip it.
But there has been a surge of cookbooks about and research into the family meal. Researchers have found that one or two family meals per week significantly lowers the odds of having a weight problem as an adult.
So, parents, get ON it. All those frozen burritos are turning your kids into fat adults and you need to fire up the frying pan!
Or perhaps we could look at this research in a more positive light. What I find interesting is that it only took one or two family meals per week AND they didn't have to be made-from-scratch and picked-off-the-farm food. The definition of family meal was an adult sitting at the table with a child, eating a meal together.
Yes, they could have been eating microwaved burritos – but the point is that they ate it together.
Is there any greater joy in life than sitting with someone you love and eating a meal?
The family meal, when it happens in our house and we can focus, is precious. It is luxurious because everything stops and we all look at each other. We don't allow any devices to distract us. The meal isn't really about the food.
Some tips for a family meal:
If the meal is a dreaded chore – then ASK FOR HELP – even a non-cook can heat up fish sticks and boil peas (or dial for take-out).
Light some candles and turn the lights low (or some other ritual that works). This will indicate that it is time to focus on the meal.
Use paper plates if you don't have time to clean. Who cares what kind of plates you use?
Don't feel bad when all you had time to do was boil ravioli and pour on sauce. You can cook when you have time. Be proud that everyone is eating together.
Aim for once a week if you aren't scheduling any family meals. After you enjoy a few weeks, you might spontaneously start having more.
If you eat alone, be sure to sit down and eat it at the table. Take the time to savor your food and reflect on your day. I have conversations with myself all the time!
Good eating habits, such as the family meal, can truly help with weight loss and eating healthy.
What is your take on the family meal?
---
Other posts you might like:
---

I know many of you are Weight Watchers members and find the program helpful....
---

I have a confession to make. I have been on vacation for almost 2 weeks.....
---