Meet Your New Best Friend: Fat
Ahhhh, look at that beautiful butter. I can't wait to smear it all over my steak.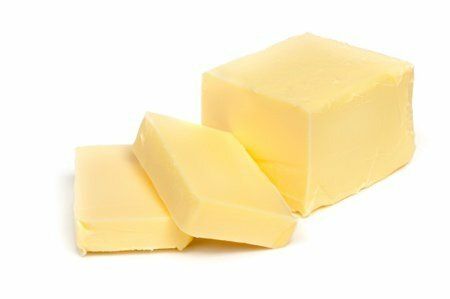 Fat is back, baby.
A MAJOR new study (like significantly important) has revealed that people who:
Avoid carbohydrates (booo!)
Eat more fat including saturated fat (hurray!)
lose more body fat and have a lower chance of heart disease THAN people who follow a low-fat diet.
(Trans fat is still bad for you in case you were wondering.)
Even more exciting, was that the researchers did not make the 150 participants cut calories.
From Dariush Mozaffarian, the dean of the Friedman School of Nutrition Science and Policy at Tufts University:
It shows that in a free-living setting, cutting your carbs helps you lose weight without focusing on calories. And that's really important because someone can change what they eat more easily than trying to cut down on their calories.
I love the idea of a "free-living setting". Is that where I live now where my children run around naked from time to time?
The "carb cutting fat eaters" lost an average of eight pounds more than the low-fat group, lost body fat, and had improvements in their lean muscle mass AND they didn't exercise more. How about that?
I know what you are wondering. What did they eat? Was it flank steak dipped in butter with a side of cream?
From the New York Times:
A typical day might consist of eggs for breakfast, tuna salad for lunch, and some kind of protein for dinner — like red meat, chicken, fish, pork or tofu — along with vegetables. Low-carb participants were encouraged to cook with olive and canola oils, but butter was allowed, too…. The majority of their fat intake, however, was unsaturated fats.
Bummer. No steak dipped in butter.
I think many of us have noticed that when we cut our carbohydrates we lose belly fat and weight. No French fries, bread baskets, cereal for breakfast, massive sandwiches for lunch, and thick crust pizza for dinner.
But, the nice thing about the study is that the idea that "Fat makes you fat" is outdated. Also, even though the participants ate more saturated fat (meat fat) than is recommended – they didn't increase their bad cholesterol levels.
My conclusion is put down the cookie and pick up some nuts.
What do you think of the new findings?
---
Other posts you might like:
---

The FDA wants to change the nutrition facts label to include "added sugars" versus the way it is now....
---

I walk into the grocery store and manage to spend $100 without breaking a sweat....
---