Don't Have Time for an Exercise Class? Join the "Not Going to the Club" Club
I don't know about you but I find it hard to get to the gym because I am so busy.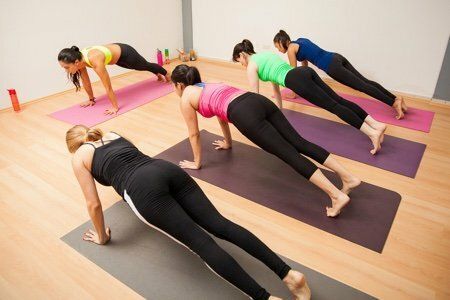 I spend a lot of time trying to figure out how little exercise I need to get by – check out my articles - How Much Exercise Do You Need for a Longer Life? and the scintillating Who Needs Cross-Fit? Five Minutes is All You Need.
Call me lazy or maybe just pragmatic because I don't love exercise and I can always come up with an excuse to avoid it.
I happen to kinda enjoy group exercise classes (except for Step – argh) because it is much more fun to work out with other people than on my own but sometimes I can't get there and therefore I do nothing. Should I give up?
Should I buy a treadmill, stationary bike or put a gym in my garage? No!!
Instead, I have started to use a tool that can be found right here on your computer or phone. The secret is….YOUTUBE!! (duh)
I have fallen in love with Jessica Smith TV because she makes it so ridiculously easy to get a workout in.
Check out this workout that takes only five minutes, requires no equipment, and can be done in a small space:
Isn't that great? What I really love is how her dog is either sleeping or walking in and out of the frame. Not only is this woman an excellent fitness instructor – she is a dog lover.
I can choose a workout for how much time I have – 5, 12, 20, or 30 minute workouts – and just change into my sports bra and shorts and hop up in down in my bedroom where no one will see me jiggle.
I find her tone supportive and her workouts challenging but doable.
I was hoping we could all share our favorite at home fitness gurus – channels and DVDs so we can get a list of resources going in the comments section.
Do you have a favorite fitness channel on Youtube? How do you deal with not going to the gym?
---
Other posts you might like:
---

Some people have no problem with exercise. They get up, run, walk, go to the gym, and move seemingly without effort....
---

Snack Girl recently heard about a gym that charges $160 per month for something called "Cross-Fit".
---