Fiber One Cereal Review
This Fiber One cereal review was inspired by my father-in-law who stayed with us for two weeks.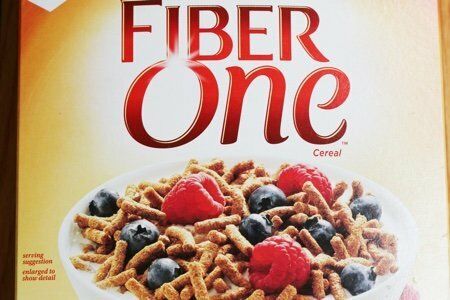 He likes to eat a mix of 4 different cereals and one of them is Fiber One. I was happy to buy him all four (corn flakes, wheat biscuits, and Cheerios were the other three) cereals and I was very interested in sampling Fiber One.
I had stayed away from it because of the name – Fiber One – which seems to indicate that it could be about "fixing" my digestive tract. My stomach is functioning well but about 42 million Americans have a problem with constipation. High fiber cereal is one of the foods that are recommended (along with fruits and vegetables) to help alleviate the problem.
I found the look of the cereal to be strange.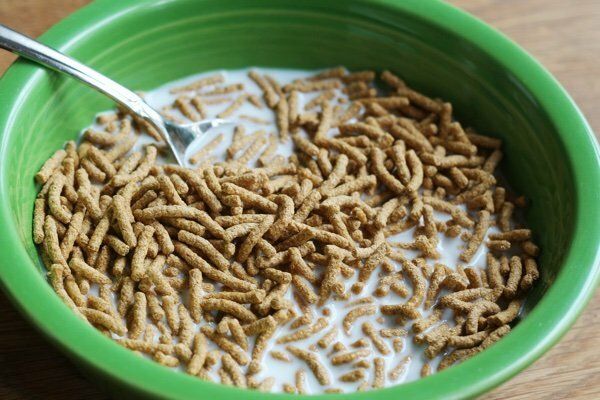 Do you see how it looks like little worms? I never found this cereal appealing (sorry General Mills).
Here it was in my house so I checked it out. First the nutritional info:
For ½ cup: 60 calories, 1 g fat, 0.0 g saturated fat, 25.0 g carbohydrates, 0 g sugar, 2 g protein, 14 g fiber, 110 mg sodium, 2 SmartPts
Is this stuff even for real? 14 grams of fiber or 55% of your daily value in 4 ounces? I can see why they call it Fiber One because this is a huge amount of fiber for such a small serving. How did they do it?
Unlike Special K Nourish and Quaker Breakfast Bars, Fiber One has only zero grams of sugar. Hurray!
Ingredients: whole grain wheat, corn bran, modified wheat starch, guar gum. Color (caramel color and annatto extract), cellulose gum, salt, baking soda, sucralose, natural flavor
In addition to the cereal ingredients, there are a number of vitamins and minerals added.
This cereal fits all of my requirements – whole grain, less than 4 grams of sugar, more than 4 grams of fiber – but I was surprised to see "sucralose" in the list. I did taste a sweetness to the cereal but it didn't have the bitter aftertaste that I usually sense when I eat something with sucralose in it.
My husband did have the bitter aftertaste after he ate this. He said that the consistency was along the lines of cardboard and I have to agree with him.
I did actually like this cereal much more than I thought I would. I'm not sure I could eat it every day. My father-in-law's idea of mixing it in with other cereals is a good one if you need the extra fiber but can't handle an entire bowl of it.
If you don't mind artificial sweeteners, I would recommend this as a healthy choice. The fiber may help to fill you up so you feel less hungry before lunch.
Have you tried Fiber One? What do you think of it?
Other posts you might like:
---

I love the whole ideal of "nourish". I decided to buy a box of Special K Nourish this after I saw a commercial....
---

Here we go again! Another breakfast bar for the "grab-and-go" crowd.....
---