Yum! A Caramel Salted Chocolate Makeover
Since we are on the subject of candy because of Halloween, I want to introduce you to one of my favorites.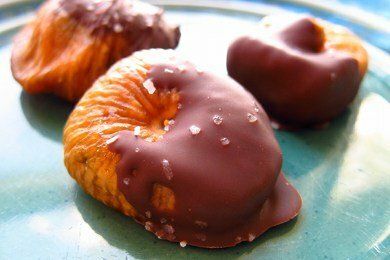 It is just a dried fig, dipped in dark chocolate, with a little bit of coarse salt shaken on for a finishing touch. You know those chocolates that feature salt and caramel? This fig concoction gives them a run for their money AND you are eating a fig instead of caramel.
I have seen these as a choice in the chocolate aisle of Whole Foods where I spend too much time, but there is no reason to buy them pre-made. They are so easy to make!
I don't actually give these to my children. They are stuck with the pistachios that I featured yesterday :)
A dried fig has good stuff like fiber, calcium, and potassium. Caramel can only say it has butter and sugar - it just can't compete!
I'm not even going to mention the difference in calories between a caramel covered in chocolate and a dried fig (250 vs 50).
You could eat FOUR of these scrumptious goodies for just one of the caramel chocolates.
To make these pop, you need DARK chocolate. I tried them with semi-sweet and it did not work because the fig itself is so sweet. Also, you should use coarse salt and just a little. You can find Kosher salt in the supermarket for this purpose.
Where do you find figs in the store? Well, I found them in the dried fruit section next to the raisins, dates, and prunes. I paid $5 for a small package - but I think it was worth it.
Do you like dried figs? How do you serve them?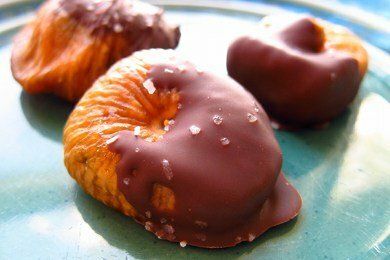 Healthy Candy Recipe

(makes 5 servings)
Ingredients
5 dried figs
1/2 ounce dark chocolate
coarse salt, for ex: kosher salt

Instructions
Lay a piece of wax paper or parchment paper on a plate. Heat dark chocolate in a small bowl in the microwave at 20 second intervals. Stir often and heat until JUST melted (chocolate burns easily in the microwave). Dip 1/2 fig in chocolate, put on plate, and dust with salt. Refrigerate for 1/2 hour and serve.
These will keep in your fridge for a long time! But, you will probably eat them before you find out how long :)
Nutrition Facts
For one fig = 62 calories, 1.0 g fat, 13.8 g carbohydrates, 0.8 g protein, 2.0 g fiber, 62 mg sodium, 3 SmartPts
Points values are calculated by Snack Girl and are provided for information only. See all Snack Girl Recipes
Other posts you might like:
---

Drizzle: to pour in a fine stream. Drizzle is a super cool word because you can hear it....
---

The simple truth is that chocolate rocks. It seems to hit the a very special pleasure center in the brain....
---
---
Get Free Email Updates! Yes please!
---