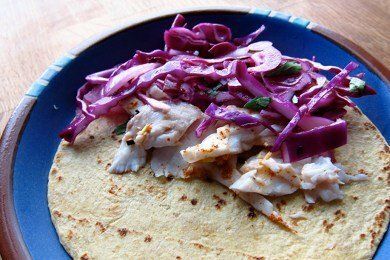 Fish Taco Recipe
(makes 8 tacos)
Ingredients
1 pound firm white fish fillets, such as tilapia, cod, snapper, or catfish
1 lime
1 garlic clove, minced
1/4 teaspoon ground cumin
1/4 teaspoon chili powder (optional)
non-stick spray
salt and pepper to taste
1/2 small head red or green cabbage
1/2 small red onion, sliced thinly
1/4 cup cilantro, coarsely chopped
1 tablespoon vegetable oil
8 6-inch soft corn tortillas
Instructions
Mix garlic, cumin, and chili powder in small bowl. Put fish on rimmed baked sheet sprayed with non-stick spray. Squeeze 1/2 lime over fish and rub with spice mixture and marinate for 15 minutes in the refrigerator.
Heat broiler to HI with an oven rack close to the top of the oven.
Core and slice cabbage thinly. Mix cabbage, onion, cilantro, and oil together. Squeeze 1/2 lime over slaw and add salt to taste.
Cook fish under broiler until cooked through. This can take 2-6 minutes per side depending on the thickness of the fish fillets.
Serve about 2 ounces of fish on tortilla with mucho cabbage slaw. Enjoy!
Nutrition Facts
One taco (with tortilla) is 219 calories, 9.9 g fat, 18.8 g carbohydrates, 11.9 g protein, 1.7 g fiber, 280 mg sodium, 6 Points+
One serving (2 ounces of fish without tortilla) is 159 calories, 9.4 g fat, 7.8 g carbohydrates, 10.9 g protein, 1.7 g fiber, 180 mg sodium, 4 Points+
Points values are calculated by Snack Girl and are provided for information only. See all Snack Girl Recipes