Fish Tacos With Cabbage Slaw: In Season And Yummy
Are you trying to eat seasonal foods? Put down those hard tomatoes and grab some cabbage.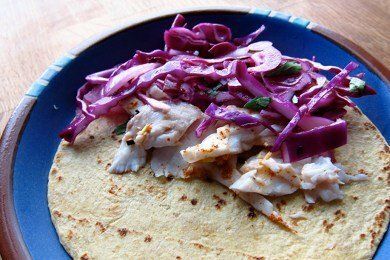 Cabbage, after harvest, can be stored in a cellar so it is a winter food for regions that don't have a growing season.
Cabbage, because it stores so well without refrigeration, is ALSO one of the vegetables found in Mexico. I was lucky enough to live in a remote area of Mexico for a month, and there wasn't any lettuce to be found at our local store - just cabbage.
Since it is so cold in New England, I thought it would be nice to turn the furnace to 80 degrees, hire a Mariachi band, get out some lime and salt and make.....fish tacos.
What did you think I was going to write?
Fresh lime juice, chili powder, and salt are great spices for white fish. White fish, such as cod, tilapia, and catfish, lack a strong flavor so a little marinating time with lime, chili, and salt really helps it to pop.
You can buy the fish fresh or frozen (just thaw it the day you want to cook it). The nice thing about cooking fish is that it is FAST.
This meal can be put together in about 20 minutes and you will transported to a tropical place (without a plane ticket).
While you are marinating your fish, you are making your cabbage slaw. And, it too is flavored with chili and lime! It is a delicious salad to have in the fridge when you want a very low calorie snack that is super healthy.
I skip the tortillas because I like just the fish and cabbage. Feel free to add salsa, avocado, hot sauce and guacamole. Before you eat them, turn on some salsa music and do a little dance to keep the winter blues away.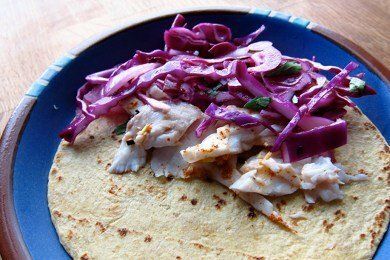 Fish Taco Recipe
(makes 8 tacos)
Ingredients
1 pound firm white fish fillets, such as tilapia, cod, snapper, or catfish
1 lime
1 garlic clove, minced
1/4 teaspoon ground cumin
1/4 teaspoon chili powder (optional)
non-stick spray
salt and pepper to taste
1/2 small head red or green cabbage
1/2 small red onion, sliced thinly
1/4 cup cilantro, coarsely chopped
1 tablespoon vegetable oil
8 6-inch soft corn tortillas
Instructions
Mix garlic, cumin, and chili powder in small bowl. Put fish on rimmed baked sheet sprayed with non-stick spray. Squeeze 1/2 lime over fish and rub with spice mixture and marinate for 15 minutes in the refrigerator.
Heat broiler to HI with an oven rack close to the top of the oven.
Core and slice cabbage thinly. Mix cabbage, onion, cilantro, and oil together. Squeeze 1/2 lime over slaw and add salt to taste.
Cook fish under broiler until cooked through. This can take 2-6 minutes per side depending on the thickness of the fish fillets.
Serve about 2 ounces of fish on tortilla with mucho cabbage slaw. Enjoy!
Nutrition Facts
One taco (with tortilla) is 219 calories, 9.9 g fat, 18.8 g carbohydrates, 11.9 g protein, 1.7 g fiber, 280 mg sodium, 6 Points+
One serving (2 ounces of fish without tortilla) is 159 calories, 9.4 g fat, 7.8 g carbohydrates, 10.9 g protein, 1.7 g fiber, 180 mg sodium, 4 Points+
Points values are calculated by Snack Girl and are provided for information only. See all Snack Girl Recipes
Other posts you might like:
---

Back in November, I wrote a post about healthy tortillas (A Healthy Tortilla). A reader who commented on that post changed my world....
---

Has anyone else noticed the size of your bagel getting bigger in the last 20 years? And the amount of cream cheese spread on them seems to be growing too!...
---
---
Get Free Email Updates! Yes please!
---