Snack Girl To The Rescue! Takes Off
You see that woman up there? That's me.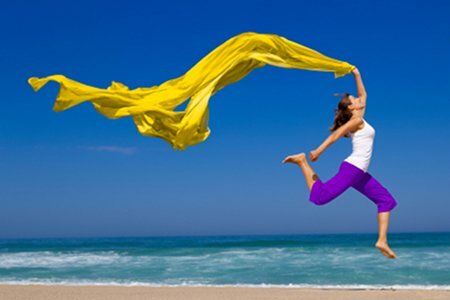 To be truthful, that photo is of someone else BUT if I could jump that would be me.
Why do I want to jump for joy? My book is starting to get noticed.

Fitness featured me on page 30 of March's issue. You can find me there in between all the flat stomachs and beautiful work-out wear. Their article will not be featured online or I would share it with all of you. Go get a copy!
Women's Health Magazine decided to use me as a source for 11 Delicious, Healthy Snacks to Stash in Your Purse. (they didn't like my hummus idea but I was able to come up with 11 other good ones – hummus isn't good for the inside of purses)
All of a sudden, Snack Girl is somebody!
If you haven't bought a copy yet of Snack Girl To The Rescue! remember that you can sign up for bonus recipes and free healthy snacks if you enter your order number and address here:
Order Paperback from these sellers:
Amazon.com
Barnes & Noble
Books a Million
Indie Bound
E-Book from these sellers:
Amazon Kindle
nook
Google Books
iTunes
Kobo