This Pot Pie Could Kill You
In my local paper, there was a scary story about a pot pie driving around town with a sawed-off shotgun.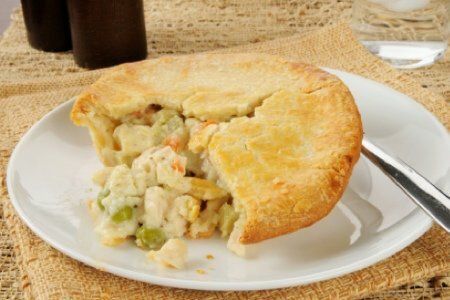 Actually, the story was about a baby moose running around in a children's playground - I live in a small town.
Accuracy aside, there was a BIG story in 2007 about Con Agra's outbreak of salmonella in its pot pies that sickened 15,000 people - yikes! No deaths were reported from the outbreak, but it was still scary.
Con Agra cleaned up its plant and changed its cooking instructions to help people better cook their pot pies in order to make sure that they killed all possible contaminants: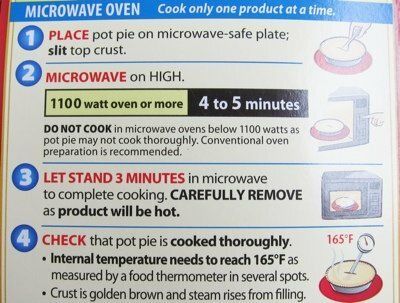 I saw this great video on the New York Times about the instructions here: Pot Pie Confidential and decided to try cooking a pot pie myself.
The first part of the instructions (slit crust) is impossible because it is frozen. Try it and see what happens to your knife.
Number two was also difficult because I have a microwave that someone gave me. I am sure the instruction booklet is in a landfill somewhere and I have no idea if my microwave cooks at 1100 watts.
Number four was the fun part because I do have a digital thermometer (again, someone gave me one) and I could poke the pot pie as many times as I wanted. I found what Michael Moss found. Some of the pot pies was over 165F and some of it was about 155 F.
Huh.
How many of us take the time to really read the directions or poke our pot pies?
Now it is 2013, and in April there was another recall from the USDA. This time it was an E. Coli contamination in cooked frozen mini meals - Schwan's mini meatball sandwiches, quesadillas, etc. - see 10.5 Million Pounds Recalled.
My advice is to stay away from frozen meals because they are loaded with sodium (and they don't taste very good). If you do eat them, cook them following the directions. Pay attention!
You shouldn't be afraid of your food.
What do you think of our food safety issues? Are you concerned?