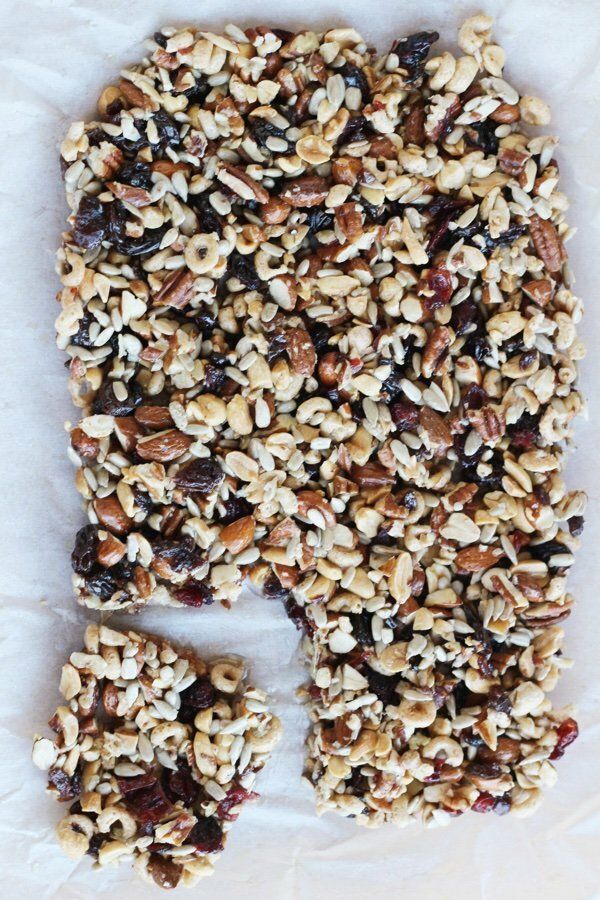 Fruit and Nut Bar Recipe

makes 16 bars

Ingredients
1 ½ cups chopped assorted raw or toasted nuts and/or seeds
1/3 cup chopped unsweetened cereal (I used Cheerios)
½ cup chopped dried fruit
1/3 cup light corn syrup or brown rice syrup
dash of salt (optional)

Instructions
Preheat oven to 325 F. Line an 8-inch square baking pan or 7"x 11" glass casserole dish with parchment paper AND spray it with non-stick spray for easy removal of the bars.
Mix together nuts, dried fruit, and cereal in a large bowl. Pour over corn syrup and add a dash of salt. Mix well and spoon into baking pan. Press the mixture down with the back of the spoon.
Bake for 17-20 minutes until lightly browned on the edge of the bars (see photo). Cool on baking rack for 20 minutes and slice into 16 bars.
Store at room temperature for three days, refrigerator for 2 weeks, or freeze for later consumption.
Nuts and seeds: walnuts, cashews, hazelnuts, brazil nuts, almonds, peanuts, pecans, pine nuts, sunflower seeds, pumpkin seeds, sesame seeds, etc.
Cereal: Puffed wheat, Cheerios (chopped), Brown Rice cereal, Rice Chex etc.
Dried fruit: raisins, apricots, dates, cherries, cranberries, figs, mangoes, shredded coconut, apples, prunes, peaches, etc.
Nutrition Facts
For one bar: 85 calories, 4.4 g fat, 0.0 g saturated fat, 10.9 g carbohydrates, 4.8 g sugar, 2.1 g protein, 1.3 g fiber, 3 mg sodium, 3 Freestyle SmartPts
Points values are calculated by Snack Girl and are provided for information only. See all Snack Girl Recipes