Fruit and Nut Bar Recipe
I call this fruit and nut bar recipe "Everything But the Kitchen Sink Bars" because I use literally anything I can find in them.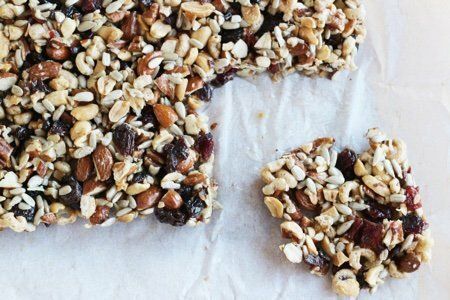 My kitchen cabinets are filled with little bags of nuts, dried fruit, and cereal from all the recipes that I attempt. So, I grabbed some unsalted peanuts, pecans, almonds, Cheerios, and sunflower seeds and mixed them with raisins and dried cranberries.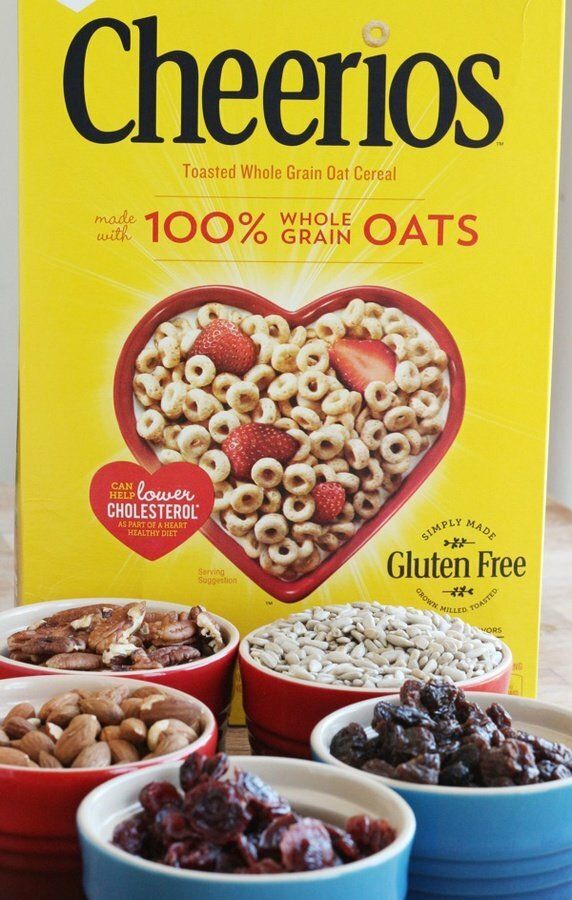 Last time I made them, I used hazelnuts, almonds, cashews, dried apricots, and raisins and they were delicious.
The idea here is to either use everything in the house up OR make your favorite flavor combination. Like dark chocolate and dried cherries? Go for it. Want to add turmeric, chili powder, or curry powder? Why not? Add unsweetened coconut, Goji berries, or dried blueberries – whatever floats your boat.
Sometimes, I don't even make the bars. I simply make this bowl of chopped nuts, cereal, and dried fruit, and put it in a container for later consumption. I mix it into yogurt, toss it into my kid's lunch boxes, or grab some for a quick snack.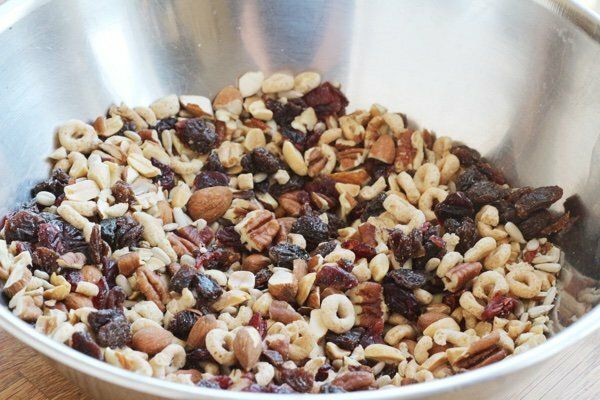 These never hang around the house for very long. I love the way the toasted nuts are fragrant and fresh.
If you want to make a lower calorie bar, add more Cheerios (or other unsweetened cereal). The cereal is much lighter than the nuts and adds a nice texture.
What I like about these bars is that I can make them smaller than a packaged fruit and nut bar and put them in a little baggie to toss in my purse. I like my snack to be around 100 calories so this is a good fit.
I did use light corn syrup for this recipe which will drive the non-GMOers crazy. I couldn't find brown rice syrup which would work equally as well in my Stop & Shop. You cannot use maple syrup because it isn't thick enough.
Have you tried to make your won fruit and nut bar? What did you use?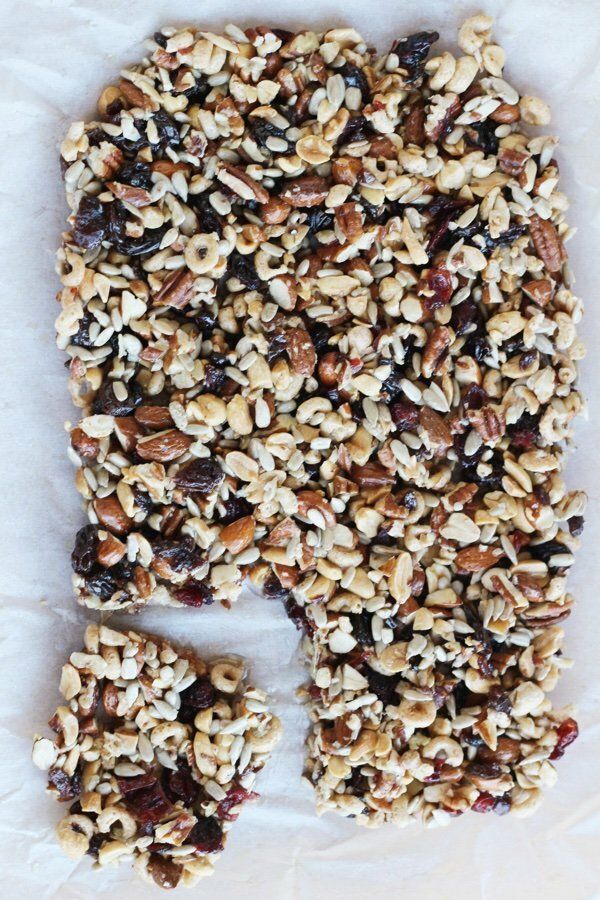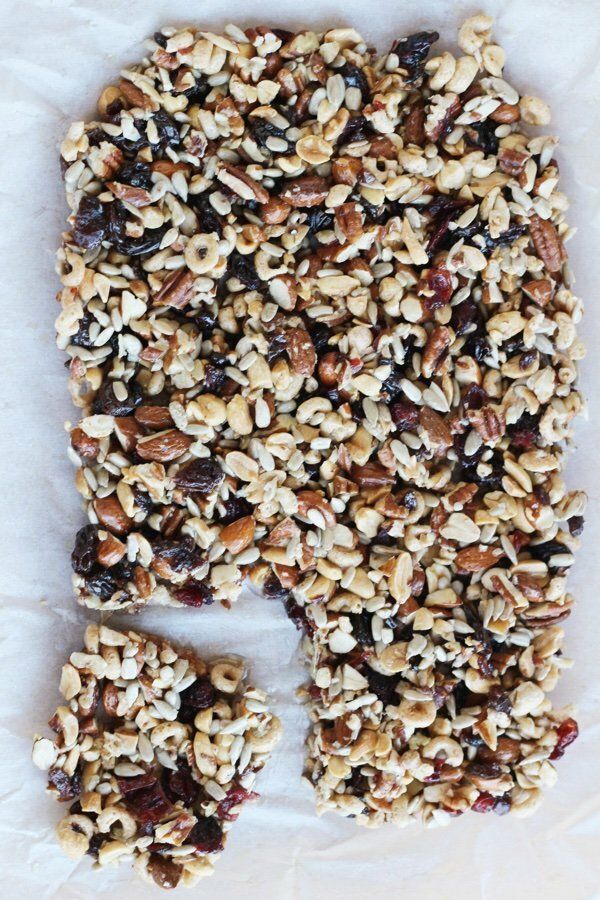 Fruit and Nut Bar Recipe

makes 16 bars

Ingredients
1 ½ cups chopped assorted raw or toasted nuts and/or seeds
1/3 cup chopped unsweetened cereal (I used Cheerios)
½ cup chopped dried fruit
1/3 cup light corn syrup or brown rice syrup
dash of salt (optional)

Instructions
Preheat oven to 325 F. Line an 8-inch square baking pan or 7"x 11" glass casserole dish with parchment paper AND spray it with non-stick spray for easy removal of the bars.
Mix together nuts, dried fruit, and cereal in a large bowl. Pour over corn syrup and add a dash of salt. Mix well and spoon into baking pan. Press the mixture down with the back of the spoon.
Bake for 17-20 minutes until lightly browned on the edge of the bars (see photo). Cool on baking rack for 20 minutes and slice into 16 bars.
Store at room temperature for three days, refrigerator for 2 weeks, or freeze for later consumption.
Nuts and seeds: walnuts, cashews, hazelnuts, brazil nuts, almonds, peanuts, pecans, pine nuts, sunflower seeds, pumpkin seeds, sesame seeds, etc.
Cereal: Puffed wheat, Cheerios (chopped), Brown Rice cereal, Rice Chex etc.
Dried fruit: raisins, apricots, dates, cherries, cranberries, figs, mangoes, shredded coconut, apples, prunes, peaches, etc.
Nutrition Facts
For one bar: 85 calories, 4.4 g fat, 0.0 g saturated fat, 10.9 g carbohydrates, 4.8 g sugar, 2.1 g protein, 1.3 g fiber, 3 mg sodium, 3 Freestyle SmartPts
Points values are calculated by Snack Girl and are provided for information only. See all Snack Girl Recipes
---
Other posts you might like:
---

I think you need this frozen cookie dough recipe because it will stop you from eating crappy cookies....
---

These zucchini breakfast muffins will become a staple in your house in no time....
---
---
Get Free Email Updates! Yes please!
---