Fruit Pizza for People who Love Fruit and Pizza
This fruit pizza recipe is a kick. You get to say "pizza" when you are actually serving dessert.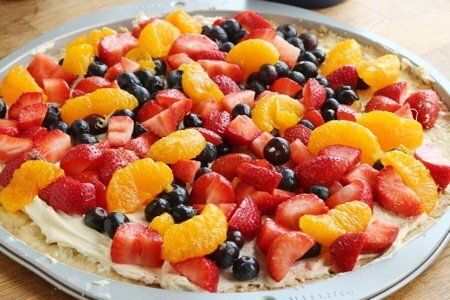 I have a pizza problem which I have tackled by not eating pizza unless it is absolutely the most delicious pizza in the world. No cold, gummy crust, ketchup like sauce, bland or too salty pizza for me. Fortunately, my standards rule out most pizza.
But, what about fruit pizza? I love this recipe because it features fruit and it is fun to make. It is not the healthiest choice but you could do much worst (cheesecake I am looking at you).
For a super light dessert check out my healthy strawberry shortcake or my stuffed strawberries.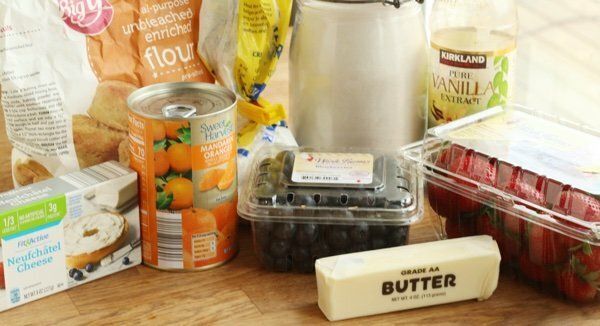 There isn't a lot of added sugar per serving (about 2 grams). Most of the sugar here is from the fruit. But, there is butter so that makes this high in fat. Every once in a while – I think a little butter is a good thing.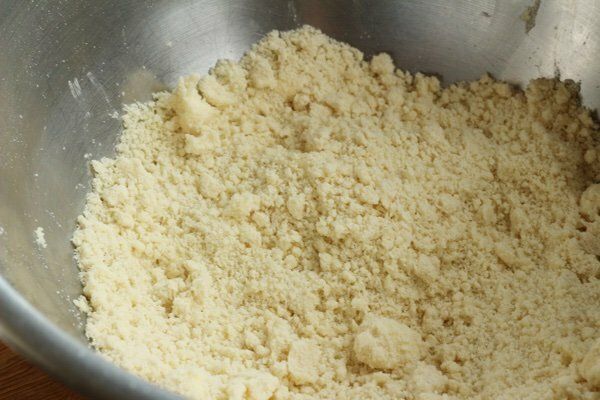 The butter is for the crust which is like a shortbread cookie. You press the crumbly mixture into a pizza pan and bake it for ten minutes. That is all you have to cook! The rest is simply washing and cutting up fruit and making a creamy base for the fruit to sit on.
I used blueberries, strawberries, and mandarin oranges – but I wish I had added kiwi for a splash of green as well. Add your favorite fruit – it doesn't matter because it all works on fruit pizza.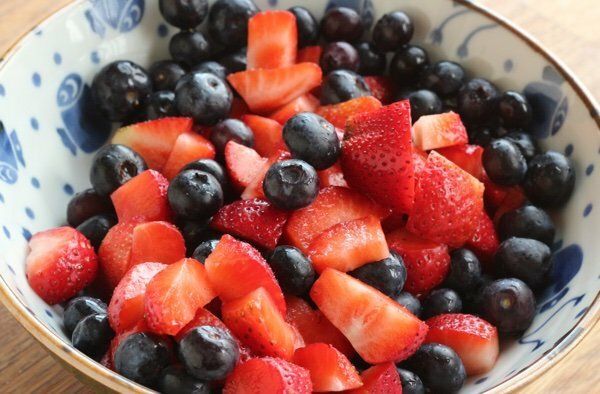 I did find that the crust was a bit crumbly and didn't firm up until I refrigerated it. It was delicious and pairs well with coffee or tea. It is nothing like actual pizza :)
Take this to your Easter gathering for a nice splash of color and don't tell anyone how easy it was to make. Definitely do not mention all the antioxidants in blueberries.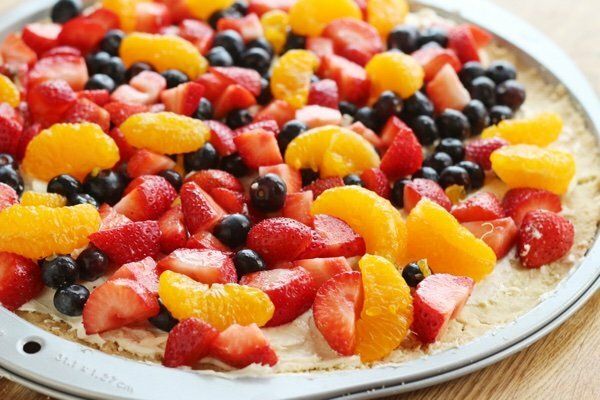 I just tossed the fruit on there but I bet more creative souls could make a beautiful pattern with sliced strawberries. That would take time (of course) so I didn't do it.
Do you make fruit pizza? What do you put on it?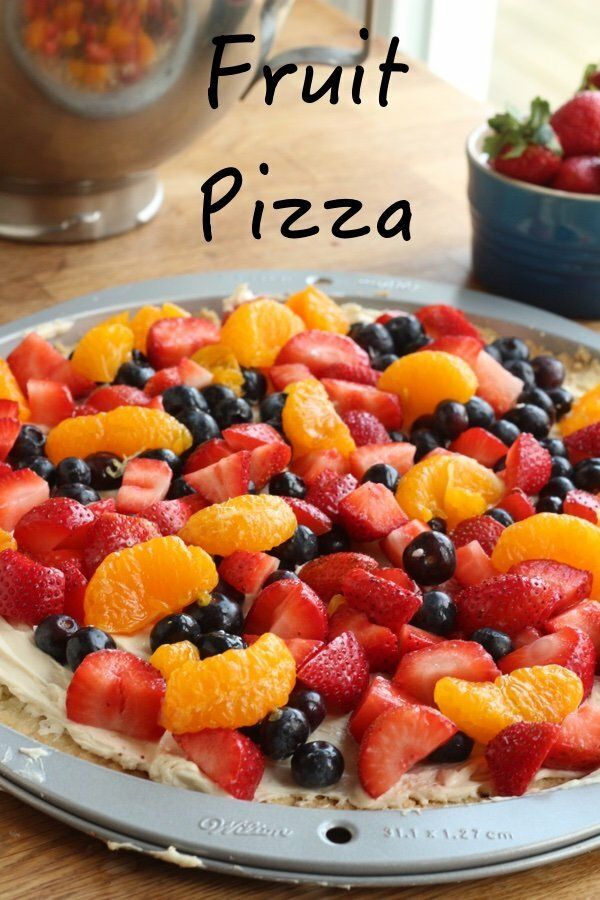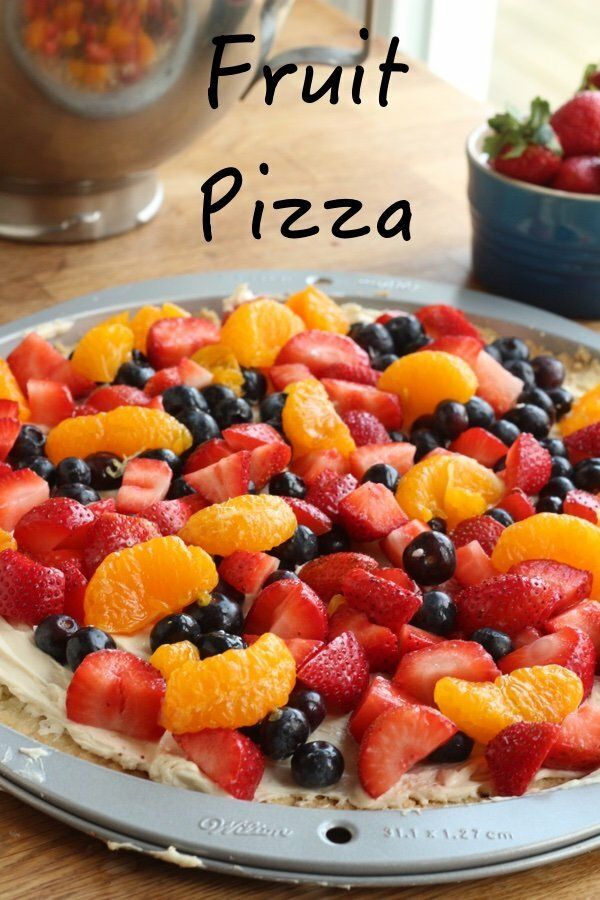 Fruit Pizza Recipe

Makes 16 servings

Ingredients
1 cup all-purpose flour
¼ cup confectioner's sugar
1/2 cup cold butter, cubed
1-8 ounce package reduced-fat cream cheese
2 tablespoons sugar
1 teaspoon vanilla extract
2 cups fresh strawberries, hulled and cut into chunks
1 cup fresh blueberries
1 can mandarin oranges, drained

Instructions
Heat oven to 350. In a large bowl, mix flour, confectioner's sugar, and butter until crumbly. Press into a 12-inch diameter pizza pan. Bake for 10-12 minutes until golden brown. Cool on a wire rack.
In a medium bowl, beat cream cheese, sugar, and vanilla. When "crust" is still slightly warm, spread the cream cheese mixture on top. Add the fruit and chill for an hour so it will firm up.
Nutrition Facts
For one slice = 145 calories, 9 g fat, 6 g saturated fat, 14.1 g carbohydrates, 5.2 g sugar, 2.7 g protein, 0.9 g fiber, 102 mg sodium, 6 Freestyle SmartPts
Points values are calculated by Snack Girl and are provided for information only. See all Snack Girl Recipes
---
Other posts you might like:
---

Simple and beautiful reign! We are into spring and strawberries are happening....
---

Have you ever made a traditional Strawberry Shortcake? Well, I have and the "shortcake" part calls for cream AND butter. Wowza!
---
---
Get Free Email Updates! Yes please!
---